2023/08/07 | MMDInnovationHub
More screen space helps you to think bigger: Any hobby or profession can benefit from a large monitor or a multi-monitor setup, but the real question is whether a 32:9 SuperWide monitor or a dual monitor setup would better suit your needs. In this article, we will provide a basic review on dual monitor and SuperWide setups.
How do I manage a dual monitor setup with a laptop?
After placing the monitors in your preferred position, you can find out how to connect them by checking the available ports in your laptop and your monitors.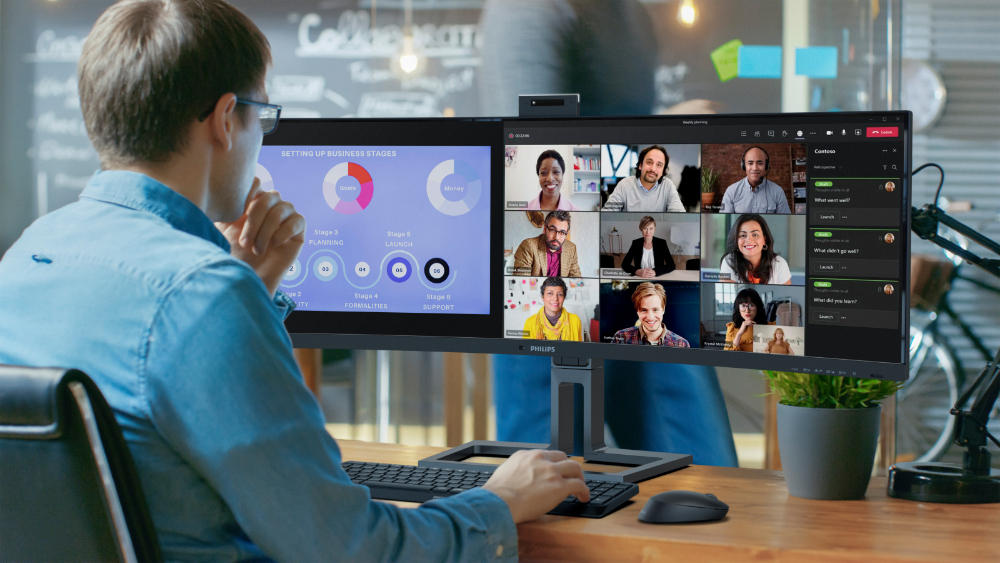 Usually, modern laptops are lacking in ports, which makes newer dual-monitor setups less cable-heavy. Therefore, instead of connecting each monitor to the pc/laptop in use, check if all of the devices in use are equipped with Thunderbolt 3 (or 4) and/or DP (DisplayPort) out. Next, check if your monitor is compatible with daisy chaining. If so, then link the laptop to the first monitor and then daisy chain each monitor to the other: This is the best way to manage a dual monitor setup.
SuperWide Screens: The replacement to a dual monitor setup
The cable management in a dual monitor setup can feel overwhelming. For actions like video editing, reading large spreadsheets, and others that require a lot of screen real estate, a dual monitor setup just might not be enough. Cue the SuperWide screen.
For a singular and fluid working space, a large monitor might be better suited to your needs: A 32:9 SuperWide monitor is specifically designed to replace dual-screen setups. It's equivalent to having two 27" 16:9 Quad HD displays side by side.
To provide an example of a replacement to the dual screen setup, the Philips 45B1U6900CH is equipped with a 32:9 SuperWide 44.5-inch (113 cm. diagonal) screen with 5120 x 1440 resolution and several other features that are designed to aid professionals' multitasking.
Rather than having two separate monitors, the Philips 45B1U6900CH's SuperWide ratio allows professionals to easily open multiple windows without having to manage multiple screens and cable connections. In addition, some added advantages to the Philips 45B1U6900CH monitor that would not be possible in a dual monitor setup are the screen's Curved VA Display, 178/178-degree viewing angles, and 1500R curvature.
If you would like to know more about the Philips 45B1U6900CH's features and SuperWide screen, you can visit the product page here.
In addition to the Philips 45B1U6900CH's large screen, it is also equipped with a very useful USB-C docking station. To learn more about the benefits of a USB-C docking station, check out one of our recent articles about the topic here.
Dual monitor setup ideas for your workspace
Now that we have discussed the benefits of a SuperWide setup, let's return to dual monitor setups.
In addition to offering two separate screens, dual monitor setups can also be extremely useful for those using a dual PC setup as well. By using monitors that are equipped with a KVM switch, you can have each PC show up on a different screen… all on the same desk.
How to use a KVM switch for a dual monitor setup
A KVM switch allows users to switch between sources through a simple and convenient button. For this reason, dual monitor setups are especially handy for those who require dual PC computing power.
Before moving on, it is important to provide you with a short disclaimer: It is possible to use a KVM switch for dual monitor setups, although it depends on the specific model of the switch and the type of monitor you are using (most mainstream KVM switches support between one and three monitors).
If you would like more information about KVM switches, you can find a comprehensive guide here.
Daisy Chaining for a Dual monitor setup
If you are opting for a dual monitor setup, daisy chaining the two screens together can be a simple way to reduce cable clutter on your desktop.
Daisy chaining by definition means that only one monitor needs to be connected to the computer. As stated in the sections above, your two monitors should therefore feature a DisplayPort in/out or Thunderbolt 3 (or 4), while your GPU must support DisplayPort 1.2 MST ("Multi-stream transport").
To learn more about daisy chaining, you can find a dedicated step-by-step guide here.
How do I get dual monitors to work separately?
When connecting multiple monitors to the same laptop, you need to choose which is the primary and the secondary monitor. Once this is done, you can either mirror your laptop screen or extend your display.
Can you run 2 monitors off 1 DisplayPort?
Yes, if you have monitors equipped with both a DisplayPort In and DisplayPort Out port. This setup is called daisy chaining, which is the ability to connect a series of monitors to a single video output port on your computer or docking station. We have a section in this article that explains Daisy chaining in further detail above.
Overall, dual monitor setups can be extremely useful for your workspace. They allow you to work efficiently with two PCs through a KVM switch and are easily connectable through daisy chaining. However, most importantly, they provide extra-screen real estate that allows you to multitask with ease.
---