2022/04/25 | MMDInnovationHub
Gone are the days of cluttered work or play stations with a host of cables needed to connect peripherals. The newest monitors do so much more than simply display high-quality visuals.
Connectivity is now a consideration in the selection of monitors. Is setting up the monitor complicated and time-consuming? Or is it just a matter of plugging it into a PC or a gaming console and it's up and running?
Will it be a problem hooking up peripherals needed for work? Not if the display has a built-in USB-C port or dock. With a USB-C cable, you can transfer data at lightning speed or even charge a laptop, smartphone, or printer while keeping your space clear.
Transfer large data at super-fast speeds, while charging a compatible device.
The only connector you'll ever need
With a built-in USB-C port, transfer of large amounts of data between devices takes only seconds. A device that supports the 3.1 USB is plugged into this port and transmits not only audio and video but power as well.
The all-in-one connector is the way of the future with transfer rates of 10 gigabits per second. It delivers bi-directional power up to 100 watts. This allows the charging of a variety of compatible peripherals – laptops, tablets, smartphones – while in use.
A home office can benefit from the latest monitor with built-in USB-C port precisely because it frees up space in the workstation even when using multiple devices and peripherals. Investing in a USB-C equipped monitor is all for convenience.
The USB-C cable: The smaller it gets the more powerful it has become.
As simple as plugging and playing
Attuned to the times, several state-of-the-art monitors have been designed both for gaming and entertainment. They perform just as well for work-related tasks and not just for leisure.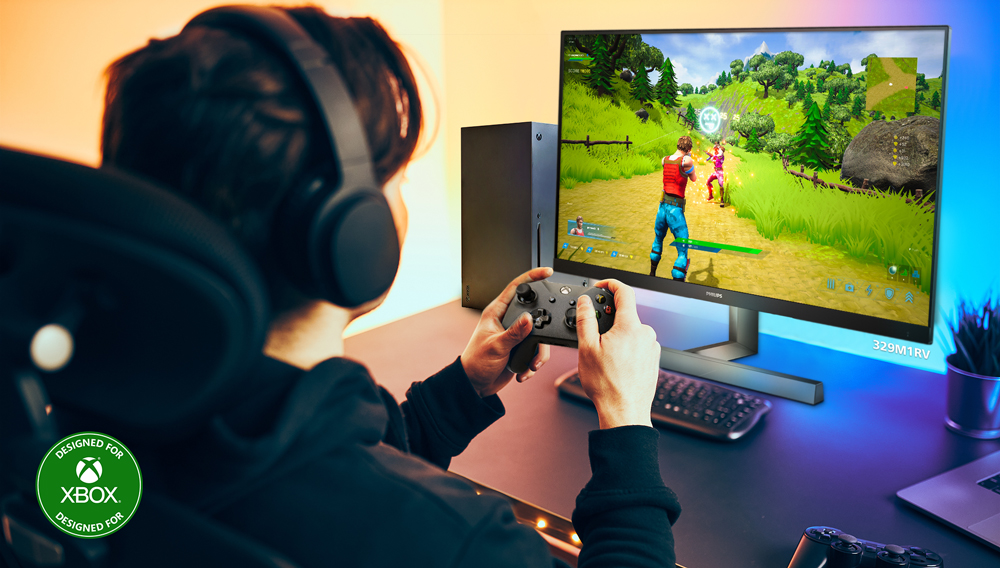 329M1RV from the Momentum M1 "Designed for Xbox" series takes Xbox console gamine to another realm.
Momentum M1 "Designed for Xbox" monitors, for example, were crafted to take Xbox console gaming to a whole new level. Its specifications - from size (27" to 55") to visual quality and smooth gaming performance (4K resolution @120Hz refresh rate) - ensure a completely immersive experience for hardcore as well as leisure gamers.
With three HDMI 2.1 ports, these display monitors easily support high-resolution images with vibrant colors and faster refresh rates once connected to the gaming console, eliminating lags during play.
As with all next generation monitors, it is equipped with the all-in-one connector USB-C, which not only transfers data at a staggering speed (imagine downloading a full HD movie in less than a minute), but can supercharge compatible devices, too.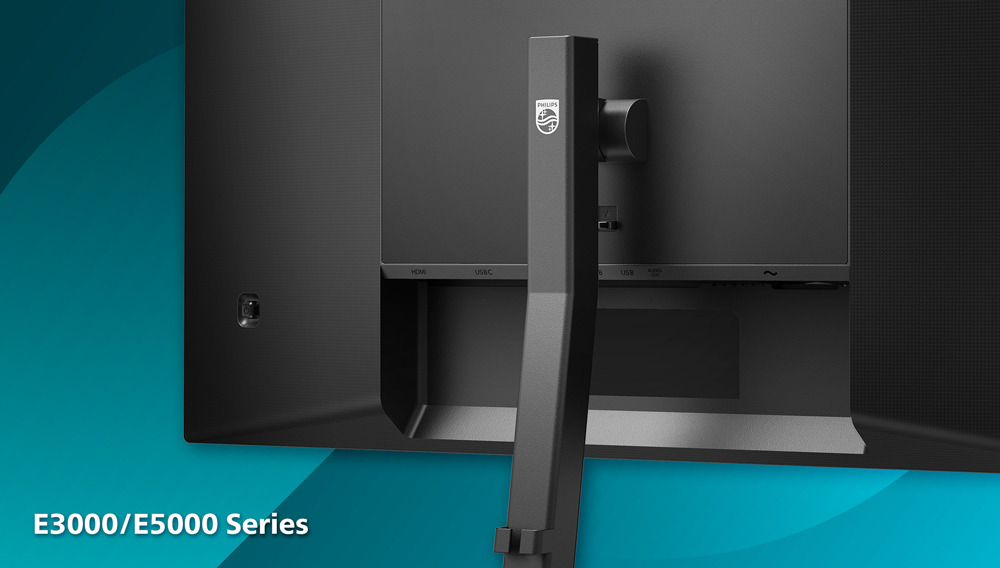 Not only is the connectivity seamless with the E3000 monitor, but ports are also designed almost invisible.
Another series of monitors is the E3000/E5000 line. Both models have 23.8 and 27-inch screens. Image resolution is top-notch, with FHD, QHD, and UHD @75Hz refresh rates and HDMI and DisplayPort inputs.
Super-power delivery
A distinctive feature of the built-in USB-C solution is its support for fast-charging technology known as Power Delivery.
Power flows two ways with a USB-C cable, to transfer up to 60 watts of power when charging devices, like two smartphones simultaneously.
The support for Picture-in-Picture and Picture-by-Picture modes means that 439P1 can be used to extend the screen of a laptop, made convenient by plugging in via its built-in USB-C dock.
Our Philips 439P1 model, a 4K UHD 43-inch monitor impresses with its 3840 x 2160 resolution. Supporting 4K MultiView technology with its expansive view, it also features USB-C docking and USB-C charging.
The docking port allows the connection of a USB-C, DisplayPort, and HDMI 2.0. Additionally, it has a USB 3.2 Hub. Compared to the standard USB 3.1, it can transfer data and power twice as fast as the USB 3.1.
Any compatible gaming console, a laptop, tablet, or smartphone can be hooked to this new generation USB.
At the rate technology develops, finding the right equipment just takes careful evaluation to optimize whatever you're using for work and pleasure. Selecting one with USB-C port will always be worth it.
---