2023/07/11 | MMDInnovationHub
In selecting monitors, among the key concerns are workspace and purpose. Whether it's an onsite office, a room, or a nook at home, the space available to set up a computer system will dictate the display size.
An even more crucial factor is what you need the monitor for. There are jobs requiring the multiple-screen setup. If there is no space (and budget) constraint, getting more than one display is always an option. There are monitors that can be daisy-chained, which is a big help in avoiding a cluttered workspace.
Go bigger
For some users, a 24" screen is adequate. But there is a slightly larger model with 27" for a little more screen real estate, and viewing two displays at the same time will not be a problem in terms of image quality and clarity, whether it's graphics, text, or video. It will, of course, depend on the monitor's resolution.
But if the need is to keep tabs on three or four screens simultaneously, either from one source or multiple devices, an ideal size is a 31.5" high-resolution display.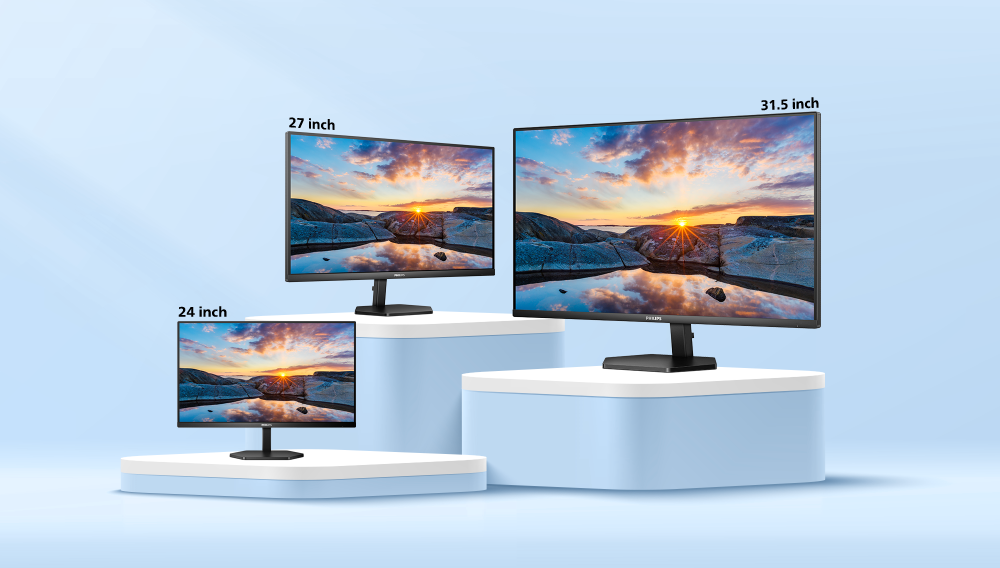 Monitors may come in different sizes. Depending on space availability and purpose, you can choose either a 24", 27" or 31.5" to suit your needs.
Even when split into four screens, full HD resolution monitors will not sacrifice the clarity and quality of images.
And if it's eye fatigue you're worried about with extended exposure to multiple visuals on one screen, no worries. There are displays with features to protect against eye fatigue.
Once it's a go for a 31.5" screen, it's time to look into other features to make it worth every dollar.
Suited for work and play
That's where Philips Monitors comes in.
Its 32E1N3100LA model fits the bill for a monitor that is the ideal size for work, entertainment, and gaming. It does not require a lot of space yet is large enough for everyday office applications, creatives, video editing, watching movies, and general leisure use.
Philips Monitors 32E1N3100LA offers ample screen size even with limited workspace.
This 3000 series model is Full HD resolution (1920 x 1080px) with a 16:9 aspect ratio. Details are crisp, brightness is high, and contrast is remarkable; visuals appear lifelike they nearly pop out of the screen.
Another Philips Monitors innovation that helps enhance image vibrancy is the SmartContrast technology, which automatically adjusts colors and dynamically enhances contrast when dark images are displayed onscreen.
While the 32E1N3100LA makes everyday computer work a breeze, its extra-wide viewing angle (178/178 degrees) is suitable for photos, web-browsing, movies, and demanding graphical applications, so image quality is always sharp and precise.
Made with productivity in mind
It starts with something basic but is a crucial factor for getting work done, especially for creative production. The monitor comes with high-quality built-in speakers for multimedia. It is a space-saver since a separate audio connection is unnecessary. The listening experience is enhanced whether watching videos or listening to music.
1ms MPRT means no blurring and smearing for smoother videos.
Then there is the 1ms MPRT (motion picture response time), which eliminates blurring - pixels quickly disappear from the screen as images change - that is best for playing fast-motion videos.
If space really is an issue and you want to minimize clutter, the 32E1N3100LA takes care of that with its cable management feature for organizing cables and wires.
32E1N3100LA is equipped with visual protection features such as LowBlue Mode, EasyRead Mode, and Flicker-free technology, needed especially for extended exposure to the screen.
As peripherals go, this 31.5" display doesn't just offer the ideal size for both work and play. All other advanced features - from color to image quality to refresh rate - make it a smart choice.
---