While our Momentum 275M2CRP's 1000R curvature offers a truly immersive experience, its Quad HD resolution, VA display and SmartImage HDR deliver Crystalclear images with wide viewing angles. And to cater to the most intense games, it comes with AMD FreeSync™ Premium, Ultra-fast 240Hz refresh rate, 0.5ms ultra-fast speed and LowInput lag for incredibly fluid gaming.
SmartImage HDR gives you optimal viewing with better contrast and brightness.
Viewing optimized for gaming
Visuals are all important in gaming, and the 275M2CRP doesn't fall short in that department. With Quad HD resolution in 2560 x 1440 pixels, it delivers nothing but CrystalClear images, while its VA display presents awesome images in wide viewing angles.
To enable the screen to reveal more details so you can easily spot enemies hidden in the shadows, this model comes with SmartImage HDR, which offers optimal viewing. By giving you better contrast and brightness, your games will also look more realistic, while the overall viewing experience becomes more immersive.
This Momentum monitor's 1000R curvature provides immersive viewing.

True immersion with less eye fatigue
This Philips Momentum monitor comes with a 1000R curvature, which was designed to closely match your eyes and focuses on you at the center of your desk. Curved desktop monitors also offer a truly personal user experience, as the curved screen provides a pleasant yet subtle immersion effect. To top off this immersive effect, this monitor also ensures reduced eye fatigue with Flicker-free technology.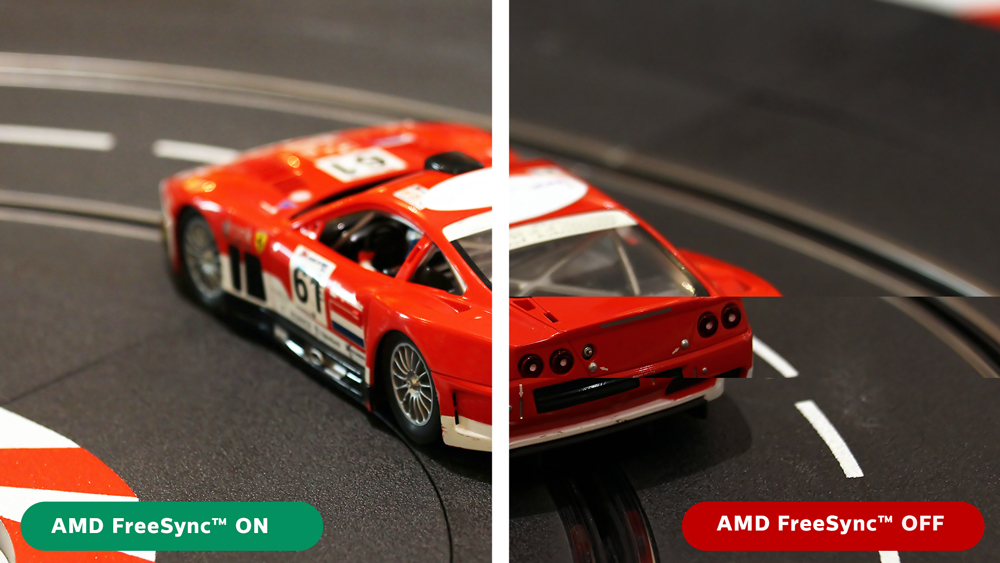 AMD FreeSync™ Premium helps you gain your peak performance.
Caters to intense gaming
When you're playing your favorite games, you're after fluid, tear-free gameplay that's free of choppiness and broken frames. This monitor's AMD FreeSync™ Premium offers just that, so you can gain your peak performance.
To enable you to game confidently with no compromises, this model comes with ultra-fast 240Hz refresh rate. This makes it ideal for action-oriented games like FPS and racing, as it provides superior motion, visual clarity and virtually lag-free gaming that's also judder-free and ghost-free.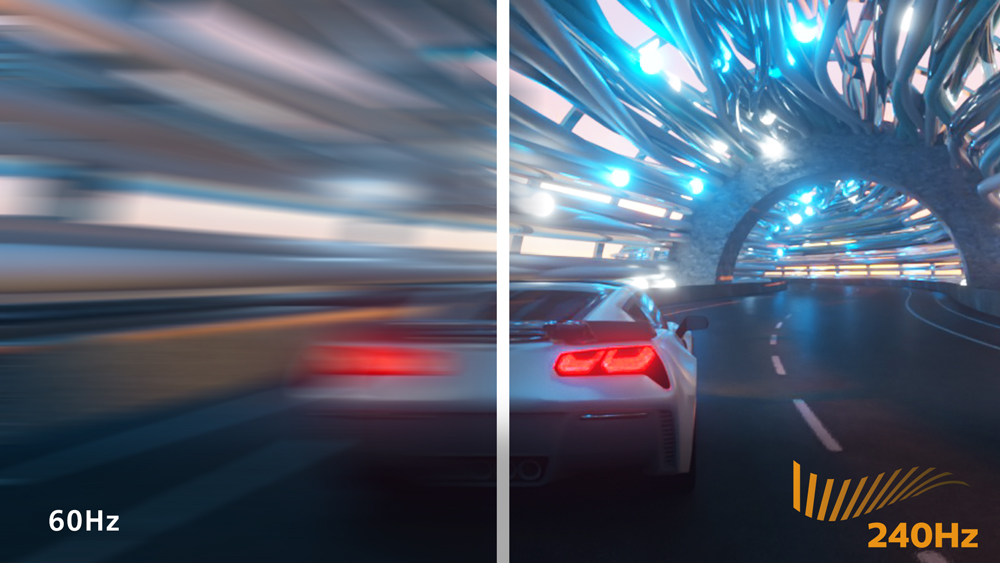 Game confidently with ultra-fast 240Hz refresh rate.
Another feature that will make you feel more alive in games is 0.5ms MPRT, which is great for thrilling and twitch-sensitive games. By effectively eliminating smearing and motion blur, it gives you sharper and precise visuals to enhance your gaming experience. Meanwhile, Low input lag reduces time delay between your device and this monitor for incredibly fluid gaming.
This monitor's SmartImage game mode gives gamers like you quick access to an OSD that's fine tuned for gamers. It offers multiple options like "FPS" mode (First person shooting) that improves dark themes in games; "Racing" mode with fastest response time, high color, along with image adjustments; and "RTS" mode (Real time strategy), which has a special SmartFrame mode that highlights specific areas and allows for size and image adjustments. For your best performance, SmartImage game mode will also save your personal customized settings as Gamer 1 and Gamer 2, based on different games. Last, but certainly not least, there's also built-in stereo speakers for your multimedia needs.