2022/12/20 | MMDInnovationHub
In this age when monitors are upgraded yearly with the latest features, your display that's five years old is "ancient" and needs a change.
Today, not only have monitors increased in size – from 24" to 53" - but the technology used with every innovation makes viewing more immersive, allowing the creation of static and dynamic images that is almost lifelike.
The display resolutions, which a few years ago were just high definition (HD), have gone ultra high definition (UHD) to 4K and even 5K. Flat monitors may soon be a thing of the past with manufacturers creating curved screens for its immersive value.
And connectivity is now almost lightning speed, depending on the ports provided for each monitor model.
Just in case you've missed out on the latest tech when it comes to monitors, here is a list of seven that should get you up to speed.
Ever-changing computer technology makes computer use a more immersive experience.
Curved
While most monitors are still flat, curved is pushing its way in slowly. If you've had to deal with eye fatigue after sitting in front of your screen for long periods, you may need to consider going curved.
One of the benefits of this monitor type is having a larger field of view while not straining the eyes. With a curved screen, light from every angle is directed towards the viewer's eyes, minimizing ocular exertion.
So, you can't go wrong with the award-winning 499P9H monitor, if you're looking at curved display. Its size (49") may be super wide and almost like having two full-size monitors in one, but there's no eye discomfort with use.
Another benefit is limited image distortion. Video images or photos often get distorted around the edges as screen size increases.
But with a curved shape of the display (with 1800R curvature like the 499P9H) there is no eye discomfort even while taking in everything at once. No need to shift focus to different parts of the screen because the entire display is already visible to the eyes.
In fact, it appears larger than a similarly-sized flat monitor. The curvature also dramatically reduces screen glare, which means less eye strain even with extended exposure.
And with the 32:9 aspect ratio for this ultra-wide display, you get to multi-task with flexibility.
The 499P9H is not only a curved display. It is also a super wide monitor that's almost like having two high-performance displays in one.
Add the 5120 x 1440px resolution (Quad HD), and the 499P9H is perfect for multi-screen setups without sacrificing image and color quality.
And since the screen is VESA-certified DisplayHDR 400, the brightness, contrast, and colors of images are exceptional. The visual experience is out of this world because the rich colors will fully engage the senses.
4K/5K resolution
The higher the resolution of a monitor, the sharper and more detailed the images appear on screen. Not too long ago, it was 4K resolution (3840 x 2160px), often interchanged with UHD (ultra high definition) and images popped as if real. Text appeared sharper, too.
Then came 5K and users were blown away. A monitor with 5120 x 2160px resolution (5K2K) meant more columns and lines, increasing the display area and further magnifying details.
There are only a handful of 5K resolution monitors. Philips Monitors launched one of them, the 40B1U6903CH, which seems like a luxury but is actually a necessity. Think vibrant colors, finest details, and sharper images whether viewing documents, creating graphics or editing videos.
From ultra-high definition, the display became UltraClear. Pair that with IPS technology and colors on screen became richer and deeper. With a wide viewing angle, you can view images from any angle and not see any distortions.
With the 40B1U6903CH, the viewing experience is bigger, sharper, and clearer.
But there's more – another feature to bolster image quality is VESA-certified DisplayHDR 400 for more lifelike and outstanding visuals.
And this 5K model being one of the few equipped with a Thunderbolt™ 4 port capable of high-speed transfers with a single cable, also helps eliminate blurry images or lagging.
So, while it takes a discerning eye to spot the differences with this ultra-high-resolution display compared to its 4K predecessor, in the right setting it certainly is significant.
OLED & Mini-LED displays
OLED (organic light emitting diode) is a flat light emitting technology that improved image quality, lowered power consumption, and was more durable than its predecessor, the LCD. The best example of an OLED technology advantage is seeing an image on a black background so clear and sharp it almost seems real.
Enter mini-LEDS, which boasts incomparable brightness levels that make viewers enjoy a full HDR experience.
If you need brilliant images to pop out from your screen the award-winning 27B1U7903 model in the Philips Brilliance 7000 series might just be the best among mini-LED monitors.
It's the mini-LED backlighting that adds realism to images shown on display. With mini-LEDs making up the backlight, there are 2,304 individually controlled zones that will control brightness, contrast and black levels creating unmatched contrast and precise reproduction of colors and images.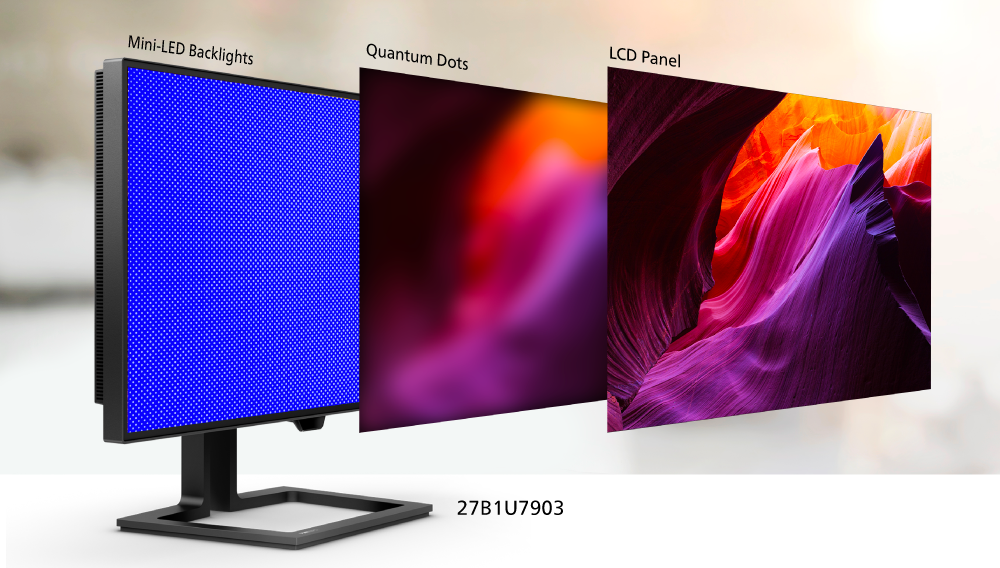 With mini-LED backlighting technology, the 27B1U7903 allows better control of brightness and contrast.

Unlike OLED, which emits its own light with electrical current and can control the brightness of individual pixels, with more mini-LEDs, there is even greater control of these elements.
Throw in the VESA-certified DisplayHDR 1400 certification level for 27B1U7903 and what comes out on screen are details so fine with brilliant colors where blacks are deeper and whites brighter, it makes creative work more engaging, and viewing movies or playing games more immersive.
It does help that this display model is one of the world's first Thunderbolt™ 4 monitor with USB4 compliance. That means higher resolution for videos and lightning-fast transfer of data as you create graphics or moving images.
Thunderbolt™ 4
While Thunderbolt™ uses the same oval-shaped connector type as USB-C, the latest technology in connectivity standard delivers far more. Its main advantage is the ability to provide consistent peak power even with simultaneous tasks such as data and video transfers while charging other devices on a single connection.
That's why the Thunderbolt™ 4 has a maximum bidirectional bandwidth of 40 Gbps, which is four times higher than even USB 3.2 and USB4.
It's no wonder that Philips' 40B1U6903CH monitor has made a splash when it was introduced.
First, it's one of only a handful that comes with the latest in connectivity, the Thunderbolt™ 4. Second, it comes with a huge screen with 5K resolution (5120 x 2160px). It means images are sharp, the brightness and contrast of visuals on screen are crisp, and there is more display space to work on, especially for creative professionals.
One of the handful with Thunderbolt™ 4, the 40B1U6903CH monitor may soon be the standard for connectivity.
What's the big deal about Thunderbolt™ 4? The 40 Gbps bandwidth standard requirement is to support power, data and video, allocated equally even with heavy workloads or fast file transfers. The technology allows high-speed data transfer, provides high-definition video output, and even charging compatible devices at the same time, all with a single port and cable.
And the cable length is like no other – it is two meters long and makes it perfect for daisy-chaining in case you need to hook up to two other 4K monitors to improve work efficiency and increase productivity.
It won't be long when the standard for connectivity will be Thunderbolt™. So do not get left behind and find out how the 40B1U6903CH can work to your advantage.
USB-C solution
The latest monitor models are now equipped with USB-C, the current standard in connectivity. And why not? Other than a simplified way of connecting computing equipment and devices, it brings with it power, speed, and durability.
Its speed supports high data transfer rates (@ 10 Gbps), which means transmitting 4K videos in seconds. And it can power devices up to 100 watts, with bidirectional power flow.
Designed for the Xbox gaming console, the 329M1RV comes with a USB-C port to simplify plug-and-play.
Incorporate all these benefits in creating a monitor with USB-C and you get the award-winning 329M1RV monitor from Philips' Momentum Line, which is designed for the popular gaming console, Xbox.
Gamers will love the experience easily plugging their console to this display and start playing. With 4K UHD resolution and a 120Hz refresh rate for Xbox, you'll be ready to win the battle with less lags, and smoother motion.
Even better, PC gamers can also enjoy their experience with the fastest refresh rate of 144Hz. And it's all in the connection.
One USB-C cable allows watching a high-resolution video while powering up and even charging a compatible device simultaneously. And with USB-C, there's no need to figure out which end hooks to the port and which plugs to the device because it was designed with the simple oval-shaped connector type.
Philips Monitors is not just including a USB-C port in its Momentum series and other lines, but some are equipped with a USB-C docking station.
Green monitor
In its continued quest to innovate, Philips also made a commitment to contribute to developing sustainable products that minimize pollution and protect the environment.
It came out with a B Line series of green monitors, one of which is the award-winning model, the 27" 272B1G that demonstrates that state-of-the-art technology can also be eco-friendly. Without compromising quality, it has been known for in display monitor technology, Philips focused on saving energy.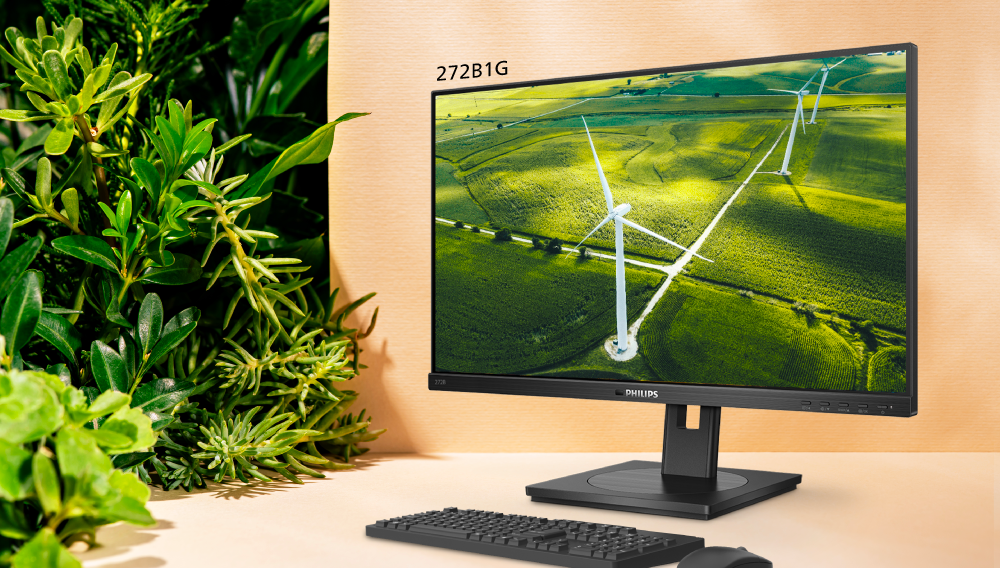 The eco-friendly 272B1G model under the B Line series is both earth- and people-friendly.

First is its new LED backlight technology that maintains brightness and color but using significantly less energy.
Second is its PowerSensor feature that transmits a signal once a user steps away from the screen and automatically reduces brightness cutting down energy costs.
Third is the LightSensor that adjusts picture brightness depending on the lighting conditions of a room to keep the image perfect with minimal power usage.
Finally, it uses eco-friendly materials from body plastic parts to metal chassis parts to packing materials, all of which use 100% recyclable materials.
Eye-care tech
Work or leisure (gaming or entertainment) means spending endless hours in front of a monitor, which can ultimately damage the eyes. But Philips Monitors, in our continuing quest to bring comfort to users, has found the technology for visual protection.
As we continue to design displays with brighter, sharper, and more accurate images, we understand that prolonged exposure to UV light emitted by the screen can eventually harm the eyes. So, we have taken steps to minimize impairing users' vision.
The 329P1H model under the P Line series is a good example of a display which features a variety of technology that aims to prevent visual problems resulting from extended exposure to monitors, namely Flicker-free, LowBlue Mode, and TUV Rheinland Eye Comfort.
With various features made to protect the eyes, the 329P1H means sitting in front of the display for extended periods won't lead to eye damage.
Most people ignore flickering onscreen because they almost appear negligible, especially with higher refresh rates. With Flicker-free technology monitor brightness is regulated to minimize flickering, which often causes eye strain.
LED displays emit harmful shortwave length blue light, also leading to computer vision syndrome. To reduce the emission of ultra-violet light, Philips added the smart software called LowBlue Mode setting.
At the same time, we moved to adopt the TUV Rheinland Eye Comfort standard, a certification which serves as proof that the display will help keep the eyes healthy. This means the monitor is flicker-free, offers low blue mode, has no disturbing reflections, provides wide-angle viewing, and image quality hardly reduces even when viewed from different angles.
It even added the EasyRead mode feature to make reading tons of text less strenuous and almost like reading from paper.
While you probably think your current monitor does the job and you're so used to it, don't get left behind. It's not just jumping on the bandwagon but the latest technology for newer display models could make things easier (and more fun) and even make you more efficient and productive at work.
---