2023/6/07 | MMDInnovationHub
Many businesses today have adopted hybrid work arrangements. And why not? The pandemic proved the system can work and not diminish productivity.
When business owners give employees the flexibility to work at home or on-site, they benefit from the arrangement, too. Such options allow workers to save on expenses, manage their time and control work hours, improve their work-life balance, avoiding burnout. Ultimately, the result is higher productivity.
Operating remotely also means having the ability to set up other branches or even take on clients overseas in different time zones.
However, work-from-home (WFH) arrangements entail investing in equipment that will help meet targets and KPIs. And a monitor is usually one of the priorities. Lucky the employees who are provided with these by their employers.
Recent events have shown that working from home can still be competitive and productive, with the right equipment.
Monitors for WFH setup
As with any workspace, there are factors to consider before deciding what computer or monitor to purchase. Price is another consideration. So, any choice should be value for money.
It is always best to choose monitors compatible with the PC or laptop specifications for optimal performance. The latest monitors often come with state-of-the-art technology - image quality, color accuracy, fast refresh rate, and features for comfort and to protect vision.
Philips Monitors offers three models under its 5000 series designed for individuals working from home: 27E1N5600HE, 24E1N5300HE, and 34E1C5600HE.
They differ in size, 24", 27", and 34", and resolution (1920 x 1080px, 2560 x 1440px, and 3440 x 1440px, respectively) but mostly share similar features that help make remote work more convenient.
The 27E1N5600HE, with its Quad HD resolution, means details appear so clear whether working with graphics, spreadsheets, or 3D graphic applications.
Meanwhile, the wider 34E1C5600HE (WQHD) has a MultiView feature for serious multitaskers, who can simultaneously view images from multiple devices on one screen.
Graphic designers and video editors appreciate a monitor with a fast refresh rate. These three models will not disappoint. The 34E1C5600HE has a 100Hz refresh rate, while the other two refresh at a maximum of 75Hz.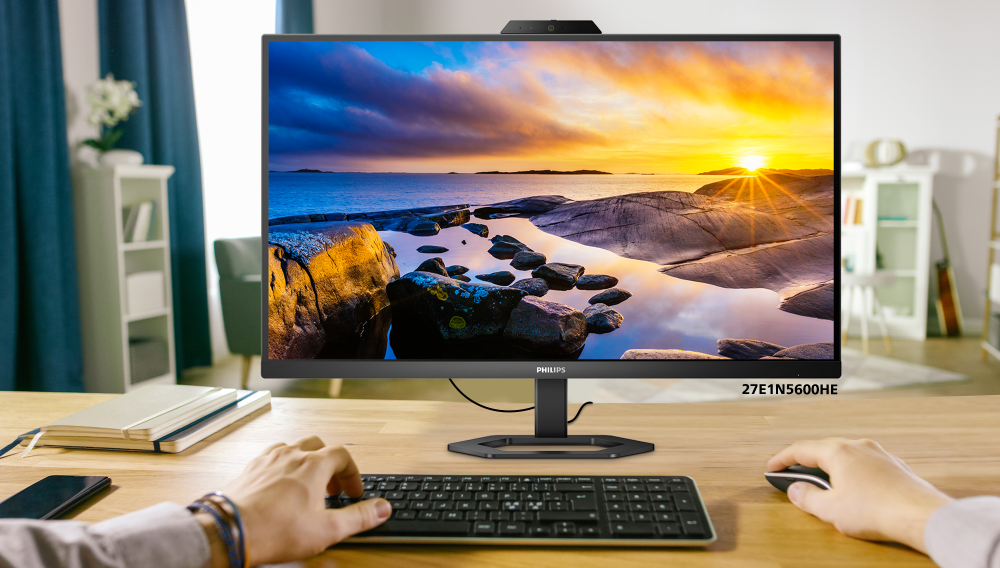 One of Philips Monitors' 5000 series, the 27E1N5600HE is ideal for the work-from-home setup.
Comfort and protection
For users immersed in typical office work that deals with a lot of text or numbers, Philips Monitors added features for comfort and protection.
Eye fatigue is a common problem when sitting in front of a computer for prolonged periods. The displays feature LowBlue Mode and Flicker-Free technology as protection against visual strain. And for reading voluminous text or spreadsheets, they added EasyRead for a paper-like reading experience that is comfortable for the eyes.
But that's not all when it comes to comfort. These monitors can tilt and pivot and are height-adjustable. That takes care of any neck, shoulder, and back strains that typically result from extended hours buried in computer work, especially doing graphic designs, 3D animation, or video editing.
The best for collaborating
Another shared feature is the USB-C connector with power delivery. Imagine watching a high-resolution video and transferring data at super speed while simultaneously powering up and recharging another device using just one cable.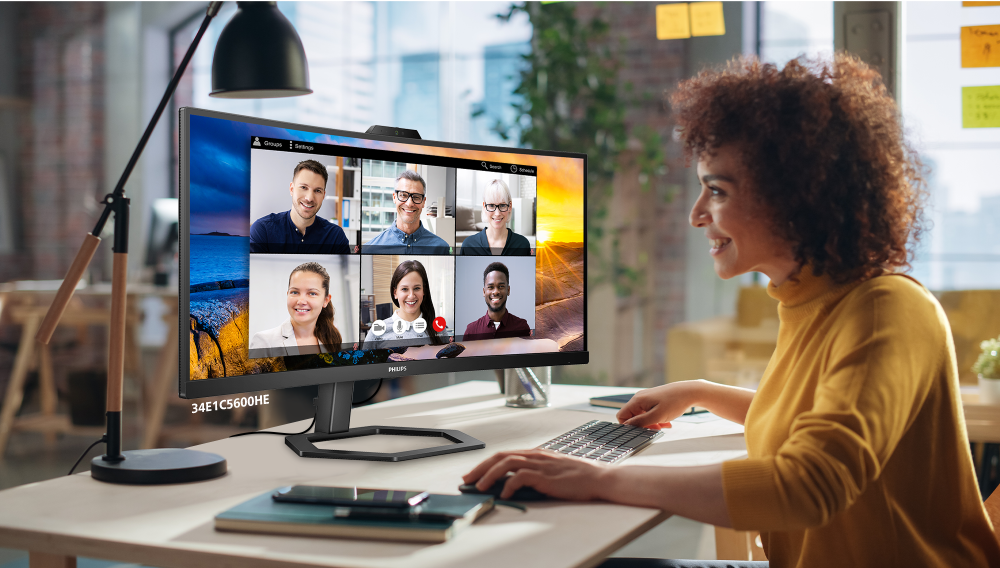 The best way to collaborate is with a sharp webcam to talk and share files with a team while working remotely.
But what makes the 5000 series ideal for remote work operations is the 5MP built-in Webcam with a noise-canceling microphone. Plus, it has built-in stereo speakers to make collaborating with the team easier.
Since the WFH setup means not being in the same place, having an efficient communication system is necessary. With a webcam, co-workers can talk, share files or work onscreen, and edit or revise in real-time.
Refresh rate plays an important role during remote communications. With a higher rate lagging is reduced or eliminated, so communicating is smooth and collaborating a breeze.
A business can be just as competitive and its staff creative even without the traditional setup of all work being done on-site. It just takes commitment on the part of the workforce and the right equipment that enhances productivity. Philips Monitors makes a good partner for these needs.
---