2022/06/21 | MMDInnovationHub
Spending hours before the computer for work or play will naturally take a toll on one's vision. The glare, moving images, voluminous text, and prolonged focus on a screen strain the eyes. It is not uncommon to hear people say they've experienced dry eyes, blurred vision, and headaches resulting from extended use of computers.
But today, with computers being an almost integral part of life, exposure to everything that monitors emit is inevitable. So, how to minimize or prevent digital eye strain? Let us count the ways.
Arm's length
For eyesight protection, the ideal distance between you and the monitor is at least an arm's length. Other factors include display size and how much desk space is available to use for the setup. But remember that distance is the key.
Brightness and contrast
Like all electronic devices, monitors need power and light to function.
Brightness refers to both the light emitted on screen and the light in the area or space where the computer sits.
Vision problems develop over time when the workspace is darker than the screen. To avoid eye problems, the brightness in the environment should be equal to or greater than that of the monitor.
The eyes will stay healthy when there is enough natural light or lamp light while working or playing.
Prolonged exposure to harmful ultra-violet light may lead to developing computer vision syndrome.
Contrast, meanwhile, pertains to balancing light and dark and is confined to the monitor's brightness. The more vivid the colors, the easier it is to attract the eyes. On the other hand, the drearier the colors, the more difficult it is for the eyes to distinguish.
To help minimize eye strain, increasing the contrast, especially for gaming, is necessary. When a monitor has a contrast ratio of 1000:1, darker images appear more lifelike and will not look washed out.
Digital eye strain: a silent, painful eye disorder
Digital eye strain will not manifest immediately but develops over a period of time. The longer one sits in front of a computer for work or play without taking steps to protect eye health, the higher the risk of computer vision syndrome. Here are other measures to prevent this.
The bigger the text
Of course, it's always easier to read text or numbers when they're larger. Small fonts really strain the vision, so it's always advisable to use the zoom function to enlarge what appears on the screen. Zoom in is best, especially with EasyRead mode enabled. It's like reading a newspaper but in digital format.
The Philips EasyRead feature is almost like zooming in for easier reading of endless text.
Eyewear for protection
Proper eyewear can help protect the vision whether you're already using prescription glasses or not. Special computer glasses allow the eyes to stay relaxed while working in front of a monitor. There are also special lenses with blue light protection to preserve eyesight.
Refresh rate
The value of refresh rates isn't just for gamers. While mostly ignored, even tiny flickers on the monitor can be a visual distraction that, in the long term, may lead to visual problems.
So, the higher the refresh rate, say 144Hz vs. 60Hz, the less the flickering, even with more image updates per second. That's less strain on the eyes.
Upgrade to TÜV Eye Comfort technology
One solution to protect the eyes is to get a monitor with built-in features that protect against visual problems.
Philips Monitors, an innovative leader in computer displays, uses TÜV-certified Eye Comfort technology for several monitor model series. TÜV Rheinland certification is an internationally recognized seal that the eye comfort technology used in the monitors has passed stringent testing.
It goes even further with the addition of a SmartErgo Base, which features an ergonomic adjustment ability that enables the monitor to be set at the proper height and angle to prevent neck, shoulder, and eye strain.
Monitors that have adjustable height and angle features reduce the chances of developing vision problems.
It is available in the 221V8, 241V8, and 271V8 models, which also features the EasyRead Mode so reading voluminous text and figures is almost like reading them on paper.
Other models with adjustable height and angle are the 242B1, 243B1, and 245B1.
Yet another innovation for eye-care solutions is the LowBlue Mode technology, which is a setting that reduces harmful ultra-violet light from damaging the corneas. It is a smart software that lowers hazardous shortwave blue light emission that can cause computer vision syndrome.
Paired with anti-glare coating and Flicker-free technology that eliminates flicker on screen to minimize eye fatigue, extended use for both work and entertainment is not a problem. Larger screen models 278B1 and 287B1m, 279P1, and 32P1H with sizes ranging from 27" to 32" are equipped with these, too.
Philips Monitors' latest TÜV Eye Comfort Certified monitor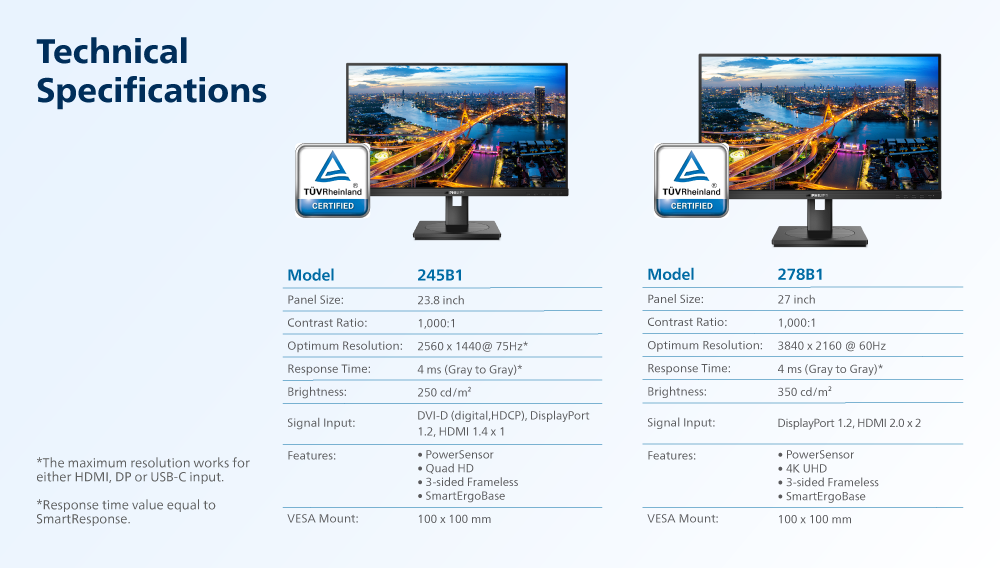 Philips Monitors does not only develop state-of-the-art monitors with sharp images and colors that pop out on screen, but we also care enough to protect eye health even with extended exposure to screens.
---