2022/05/26 | MMDInnovationHub
With the needs of different home users in mind, Philips Monitors has introduced the latest premium monitors from the E Series, designed to provide an ideal fit for different home-office environments in a way that maximizes space efficiency and home productivity.
The E Series lineup offers three different performance levels for various home users. For home users who are looking for more casual or entry level use, the E3000 line offers models designed for regular leisurely usage. For users looking for more professional level performance, users can find monitors with height adjustment capabilities and high-quality resolutions including UHD (3840 x 2160) from the E5000. For users who need a professional monitor that is suitable for video conferences, the E5000 line offers monitors that feature a 5MP webcam with noise cancellation capabilities.
The Perfect Size and Super Picture Quality for any User
The E3000's 31.5" 32E1N3600LA, an ideal monitor for casual home use that comes with crystal clear QHD (2560 x 1440) resolutions. For professional users that prefer a wider screen size. The E5000's 34" 34E1C5600HE also provides a 21:9, WQHD (3440 x 1440) resolution, alongside a webcam for professional use.
Elevate your viewing experience for work and play. UltraClear 4K IPS display delivers accurate color and image reproduction from any angle.
The E5000's 27" 27E1N5900E, utilize the high-performance panel to deliver UltraClear 4K UHD (3840 x 2160) resolution images for graphics applications, CAD solutions or a financial wizard working on huge spreadsheets.
Maximizing Space and Power with USB-C 3.2
New home office trends have shown that users prefer a clutter-free workspace while still having access to effective and efficient power delivery when it comes to charging all of users' various smart devices.
To meet this demand, E Series models provide USB-C 3.2 Gen 1 connections for easy, one-cable connections and high transfer speeds, offering a power delivery of up to 65W, with some models offering up to 4x USB HUB extensions such as models from the E3000 line. Whether it be for work or leisure, users can now create their ideal home office setup without sacrificing on accessibility or taking away from their unique home decor. USB-C 3.2 technology ensures cable connections can be neatly tucked away while still offering outstanding power delivery and transfer speeds.
Built-In Video Conferencing Webcam with Windows Hello Support
Work-from-home and hybrid work is here to stay, and Philips Monitors has introduced models within the E5000 line, including the 24E1N5300HE, 27E1N5600HE and 34E1C5600HE, that feature a 5MP webcam with a Noise cancellation microphone and built-in speakers to ensure users can have seamless communication online.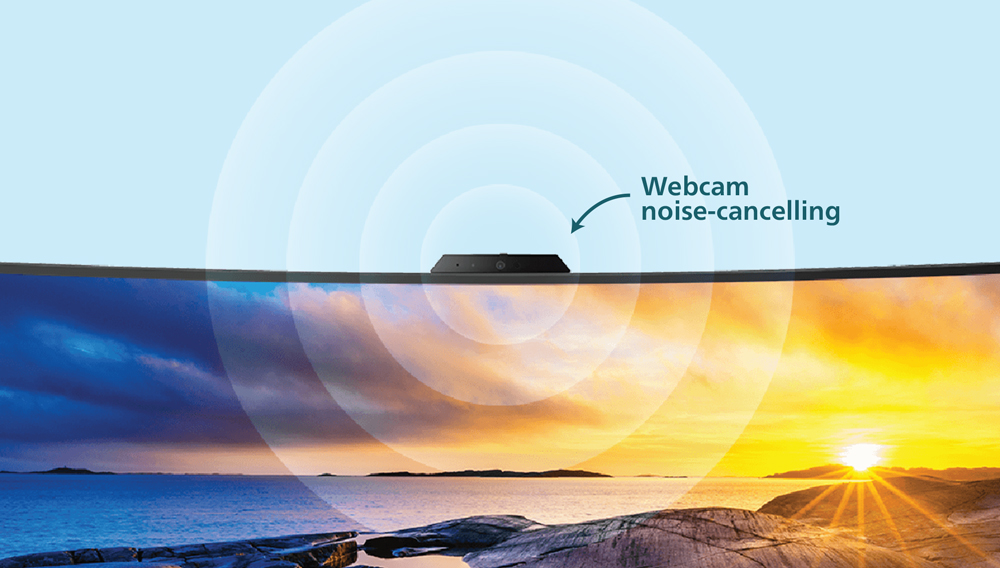 The 5MP webcam also offers Windows 11 Hello Facial Recognition Support, allowing users to log-in to their personal devices securely in less than 2 seconds. These models deliver reliable monitors for professionals who require video conferencing at home.
Designed for Comfort and Versatility
The perfect home monitor provides users with the most comfortable and versatile experience, whether it be work or casual home use. The E series offers flexible height adjustments of up to 130mm featuring pivot capabilities.
Found in all models that are part of the E3000 and E5000 lines, Adaptive-Sync technology, a feature that is linked with Windows 11 Variable Refresh Rate, allows leisurely gamers to take advantage of the elimination of screen tearing and screen stuttering, as well as providing professionals the ability to playback videos seamlessly with superb quality. In addition, all monitors feature LowBlue Mode and FlickerFree technology to help maintain the wellbeing of users' eyes, ideal for professionals whose job demands them to look at the computer screen for prolonged periods of time.
---