2023/01/10 | MMDInnovationHub
The profile of a gamer has changed. It is not just the young or the guys who are into PC or console gaming. Research has shown that they are now older, with a little more resources, and want nicer-looking stuff in their space. And women are equally engaged in games as men.
This shift in demographics prodded us, as innovators, to develop a brand specifically for gaming that is not only monitors. The brand, Evnia, reinvents the rules and includes peripherals such as keyboards, gaming mice, and headsets.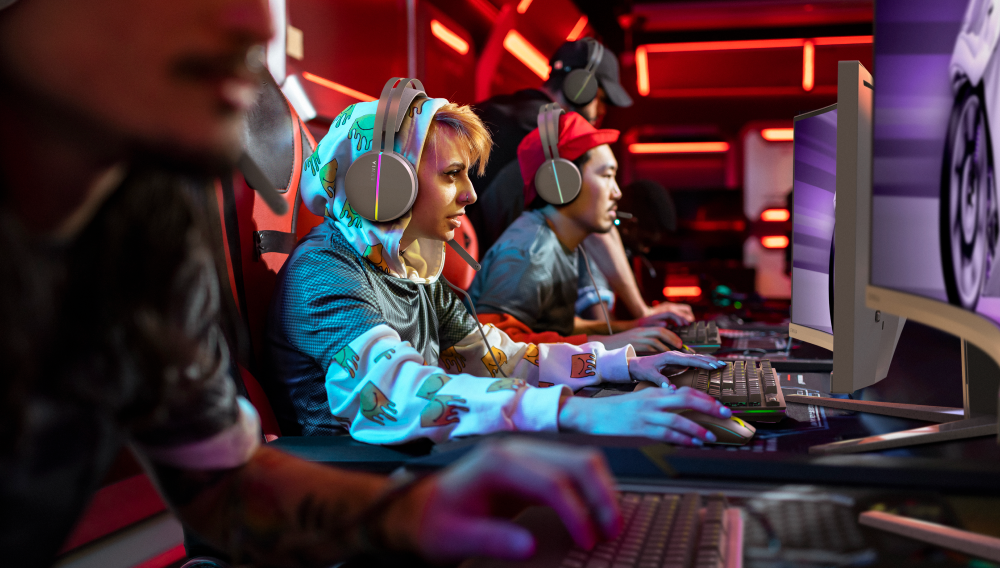 The demographics of gamers has become more diverse and their taste in monitors has changed too.
A different aesthetic
Gone are the giant logos and dark colors that were the aesthetics of older gaming monitors. As much as performance is the main factor when choosing displays, older gamers are shying away from the blacks, reds, and hard edges. Instead, a softer, cleaner look is the preference.
An elegant finish is what sets Evnia apart. Instead of the usual RGB strips at the back of the display, it features RGB cubes.
While the Evnia brand gave a lot of thought to aesthetics, what totally sets its monitors apart from other gaming displays is the software.
Philips Monitors created a brand – Evnia – that is totally focused on gaming. Its first offering is a sleek display that is the complete opposite of the usual gaming monitors.
Its product software (Philips Precision Center) is non-intrusive and easy to use. All it takes is a single click to sync all the gaming hardware gear and the Ambiglow RGB, eliminating the confusion and headache users often experience when setting up other monitors.
While Evnia will come out with four gaming monitors, the first model launched is the 34M2C7600MV.
Crystal clear images
This 34" curved monitor has an WQHD resolution or wide Quad HD (3440 x 1440px) and DisplayHDR 1400, which amplifies the already immersive gaming experience with impressive color and contrast.
Its 165Hz refresh rate, coupled with an ultra-low input lag, means ultra-smooth motion of images onscreen in the middle of play for optimal gaming. Its clean lines mean enemies can be seen sneaking into the display and not just popping out of the screen.
Made of IPS panels with an aspect ratio of 21:9, this first Evnia monitor also comes with mini-LED backlighting, which improves control of lighting and contrast ratio.
The Ambiglow technology, which creates a halo of light matching the colors on the screen, adds dimension to the viewing experience, not only for gaming but also when watching movies or sports.
Not just for play
Meanwhile, for work-related use, the monitor is equipped with a KVM switch that allows control and switching between two devices using only a single keyboard and mouse. At the same time, it has a MultiView function that allows viewing both sources on a single screen for less clutter.
With a single cable on a USB Type C connector, the 34M2C7600MV can transfer data at high speed while watching a high-resolution video and powering a compatible device all at once.
And with a USB Type C connector all it takes is a single cable connection for high-speed transfer of data, while watching a high-resolution video and charging a compatible device all at once.
For ergonomic comfort, the 34M2C7600MV has a height-adjustable stand and Flicker-Free and LowBlue Mode technologies to protect against visual stress.
The gaming ecosystem
Other models that will soon be released are the 27M2C5500W (27" VA curved screen), 34M2C8600 (34" OLED curved screen), and the largest model, 42M2N8900 (42" OLED flat screen).
To complete the gaming ecosystem, Evnia has its own keyboards (SPK8508 and SPK8708); mice (SPK9508 and SPK9708); and headsets (TAG5208 and TAG7208), all of which will be launched soon.
With a less intimidating style and look, Evnia aims to draw in a diverse group of gamers, not just the hard-core players.
There is a growing number of leisure gamers, and the softer lines and colors of Evnia gaming monitors boost confidence of women and older players to equally enjoy the gaming experience.
---