2021/12/06 | MMDInnovationHub
Features like its hybrid USB docking solution and pop-up webcam with Windows Hello™ make work more efficient, while LowBlue Mode and TÜV Rheinland Certification offers eye comfort. Designed to meet environmental standards, this display also comes with PowerSensor and LightSensor for increased sustainability.
This display's USB-C docking station simplifies your connections.
The assurance of convenience and efficiency
Looking for a way to boost business productivity while reducing costs? Here's where a hybrid USB-docking monitor, like the 276B1JH, comes in useful. Trimmed with universal port replication and a USB-C docking station, it offers simple, clutter-free connections to your notebook, peripherals and more.
With its HDMI port, for example, you can securely connect to networks, as well as transmit data, video and audio from your notebook. Meanwhile, with its USB Type-C port, you can experience easy, one-cable docking with power delivery.
The monitor's docking station, on the other hand, simplifies connections to your keyboard, mouse and RJ-45 Ethernet cable. Moreover, its DisplayPort-out enables you to daisy chain multiple high-resolution displays without the hassle of too many cables all over your workstation.
Our pop-up webcam with Windows Hello™ is both convenient and secure.
Another stand-out feature is this display's innovative pop-up webcam with Windows Hello™, which can be securely tucked away into the monitor frame when it's not needed. It also comes with facial recognition, which increases security and conveniently logs you into your Windows devices in less than 2 seconds. /p>
With all the features above, which provide convenient and secure connectivity, your work efficiency is ensured while using this monitor.
The comfort of a healthy working environment
To create a more comfortable and healthier working environment, the right display monitor can make a real difference. With eye-care technologies, like LowBlue Mode and TÜV Rheinland certification, this display cares for your vision by preventing eye fatigue and reducing the ill effects of shortwave blue light.
Keep your eyes comfortable with LowBlue Mode.
The 276B1JH also contributes to creating a safer, more sustainable working environment, as it was designed to meet environmental standards. Not only does it hold an 8.0 EnergyStar rating, it also adheres to international safety guidelines by EPEAT*, TCO Certified Edge and RoHS.
Beyond technological innovations for excellent performance, a lot of environmental considerations have also gone into this monitor's build. It is free of mercury, and its housing is also PVC / BFR free, making it safe for humans and the environment. The monitor is also built from 85% post consumer recycled plastics and uses 100% recyclable packaging material to reduce waste.
And as a nod to sustainability, this display features PowerSensor and LightSensor, which help to reduce energy usage and costs. PowerSensor detects when the user is away and reduces monitor brightness, while LightSensor detects the light conditions in the room and adjusts the monitor brightness accordingly.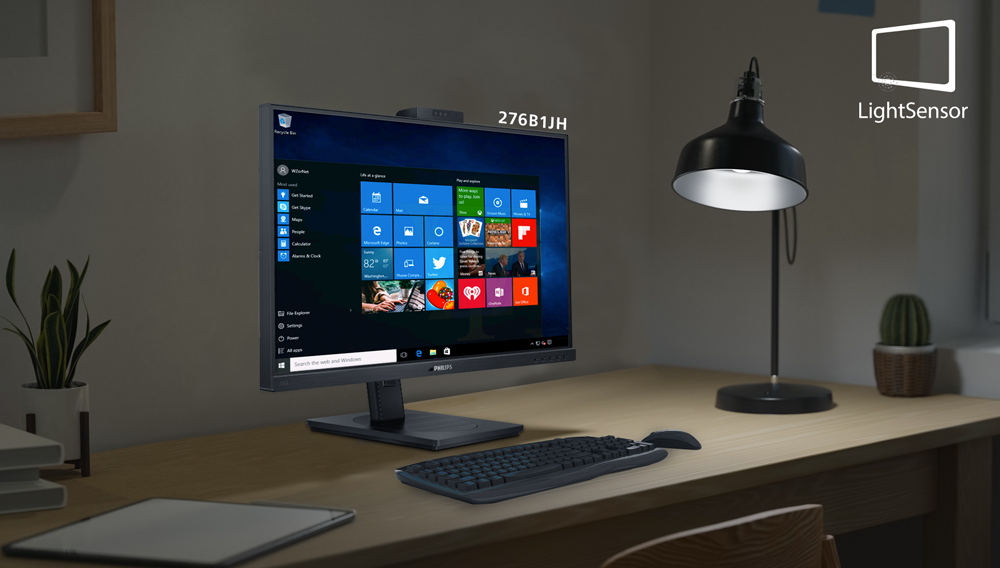 Energy-saving PowerSensor and LightSensor offer businesses a more sustainable solution.
---