Gain a serious gaming advantage with the 24M1N3200Z, a virtually frameless gaming monitor from our Momentum 3000 Series. Designed as a great all-around display, it is also well suited for intense and action-packed PC games. For immersive visuals, it's equipped with IPS technology, Ultra Wide-Color and SmartContrast. Meanwhile its 165Hz refresh rate, 1 ms (MPRT) fast response, and LowInput lag provide brilliant images and ultra-smooth gameplay. To further optimize your gaming experience, it also comes with SmartImage game mode, a SmartErgoBase and eye care technologies.
Innovative features for healthier gaming
Among the winning features of this Momentum 3000 monitor, are those that emphasize on a healthier gaming experience. To provide you with comfortable viewing, this monitor's SmartErgoBase enables people-friendly ergonomic adjustments. This means you can tilt, swivel, pivot and height-adjust the stand to your optimal viewing angle and position.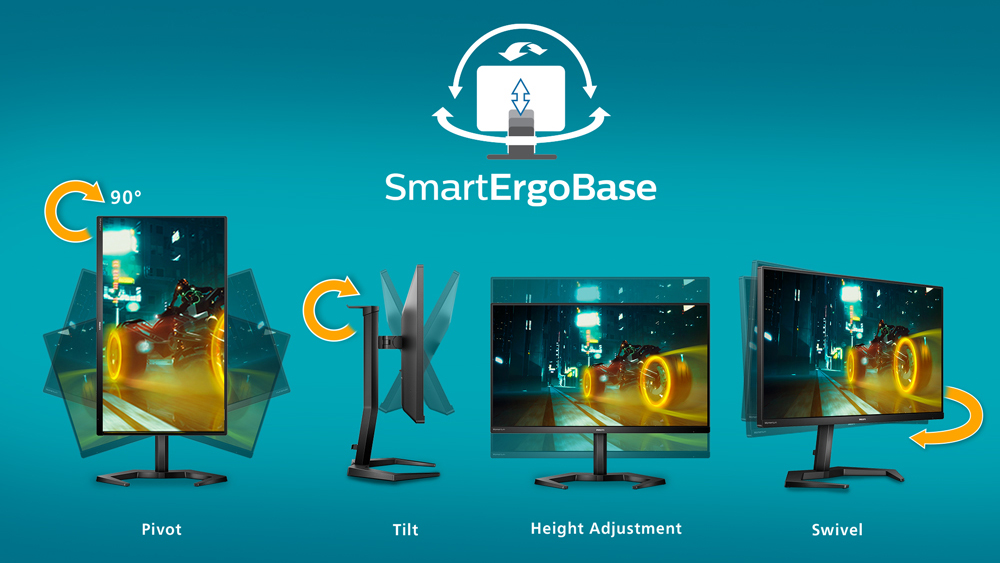 Achieve the ultimate viewing position with SmartErgoBase.

This monitor also helps protect your vision with Flicker-free technology, which reduces eye fatigue, as well as LowBlue mode, which reduces shortwave blue light that can damage the eyes. Thanks to its easy-on-the eyes viewing, the monitor helps you to stay comfortable and productive for much longer.
Smoother gameplay in action-packed games
If you're into intense, competitive gaming, the 24M1N3200Z is right for you. It is packed with powerful gaming features that deliver both brilliant images and ultra-smooth gameplay. Starting with its 165Hz refresh rates, it enables you to see enemy movement and those critical missing images, so you can easily target them.
With 165Hz refresh rates, your enemies will be easier to target.

This Philips display will also be your perfect gaming partner thanks to its 1ms (MPRT) fast response, which offers crisp images and fluid gameplay, Low input lag that reduces the time delay between devices to the monitor, and SmartImage game mode, which are settings specially fine-tuned for gamers' needs.
Immersive visuals in a virtually frameless display
To truly take your gaming to the next level, this Momentum 3000 display provides an immersive visual experience. Its IPS technology brings full colors and wide viewing angles, while its Ultra Wide-Color offers a wider range of colors for a vivid picture. For rich, black details, there's SmartContrast too.
Ultra Wide-Color makes images more vivid.

As an added feature for your convenience, this model also comes with an EasySelect menu toggle key for quick on-screen menu access.
Say goodbye to eye fatigue with Flicker-free technology.