2022/03/23 | MMDInnovationHub
The world is slowly transitioning to a post-pandemic life. Lockdowns impacted work-life in the last two years. The way around to keep businesses going was to work from home.
Employers found the solution to keep their enterprises running and for people to continue earning a living. When and where possible, work would be online. All that was necessary was the right equipment and a reliable Internet connection.
The demand for good quality computers, with monitors that display text, images, and graphics accurately, soared. Not only the young were glued to their PCs and laptops but grown-ups, too.
With things almost back to normal, the work setup has evolved. Workers can report to the office, or they may not and opt to work at home. It's called a Hybrid Work setup.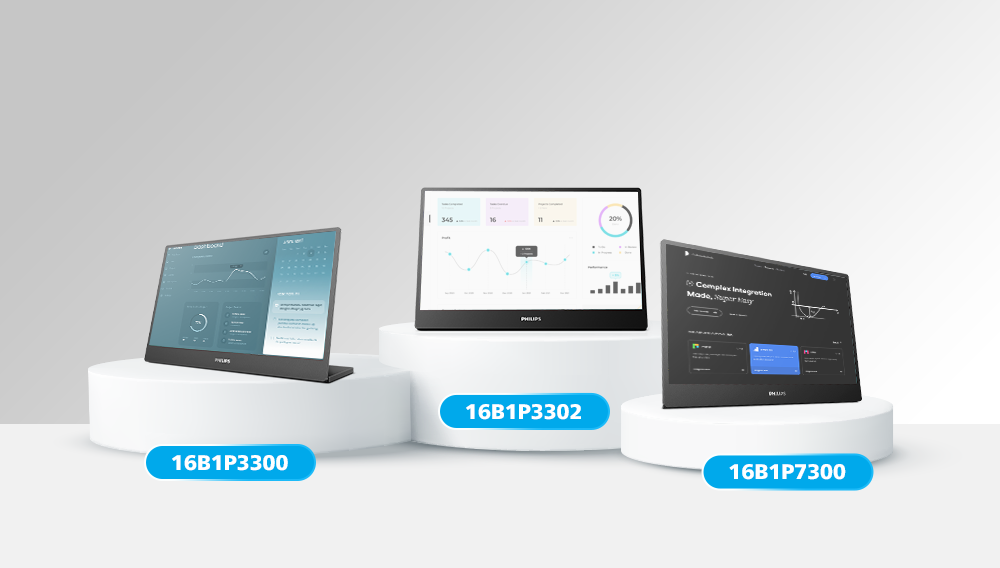 The work setup is evolving. Thanks to portable monitors, you can now work from anywhere.
Connectivity may be a challenge everywhere, but working remotely from anywhere - even a park or coffee shop - means having the tools that allow the efficient conduct of business. It can either be a mobile device like a phone or a laptop.
One concern with the WFH setup is working with only tiny screens, say from a smartphone, tablet, or even laptop. Fortunately, there are now portable monitors.
Choosing portable monitors
Much like selecting desktop monitors, size is a consideration. Since you'll be lugging these monitors around, weight is a factor. Portable monitors will be on the road, traveling from one place to another.
Lightweight and portable, our 16B1P3300 is nifty to be used as a second monitor, or to expand the screen size of mobiles and tablets.
Philips Monitors' new line of portable monitors, at 15.6" is ideal as a second screen or to magnify images on a phone or tablet.
Flagship portable display 16B1P3300
Its flagship model is the 16B1P3300, with a 1920 x 1080 resolution. It is HDR-ready, so image quality will not decrease even as a secondary display. The model boasts 250 NITS brightness and connectivity is via a micro-HDMI port and a USB-C.
The portable monitor like 16B1P3300 may look compact, but it has enough juice to even allow a little entertainment in between work mode.
The 16B1P3302 also comes with DisplayLink, while the 16B1P7300 screen uses OLED technology for its panel and two USB-C ports.
This portable monitor comes with a folding stand that is easy to set up and wide enough to provide stability.
When outside of the workplace or the home, users need a reliable power source for uninterrupted work. Fortunately, all the models in this series either have an HDMI, USB-C port, or DisplayLink to ensure connectivity anywhere to build a convenient mobile working environment.
Trimmed with popular connection ports, 16B1P3300 makes it convenient to set up work no matter where you are.
The USB-C is particularly valuable as it can transmit large amounts of data between devices while at the same time smart charging devices. The portable monitor is a business display the cost of which can easily be offset by profit.
If your budget can accommodate one from this display series, it will be a wise investment especially for hybrid work. It's powerful enough to either blow up images from a small mobile device, or be handy as a secondary screen for more sensitive assignments that need better visuals.
That's innovation ~ always thinking ahead to make life easier and more convenient.
---