2022/12/20 | MMDInnovationHub
If you're a creative professional with enough workspace and budget, make life easier and more productive with a dual monitor setup. Not just side-by-side displays, but one horizontal (or horizontal mode) and the other vertical (or portrait mode).
It makes sense. The main screen is on landscape mode, and the second unit on portrait mode. Those who have discovered this secret swear it made work more efficient.
Ideally, using the same models should be the best option. But if the preference for the primary unit is a little pricey, a less expensive second display with specs still on the high end should work, too.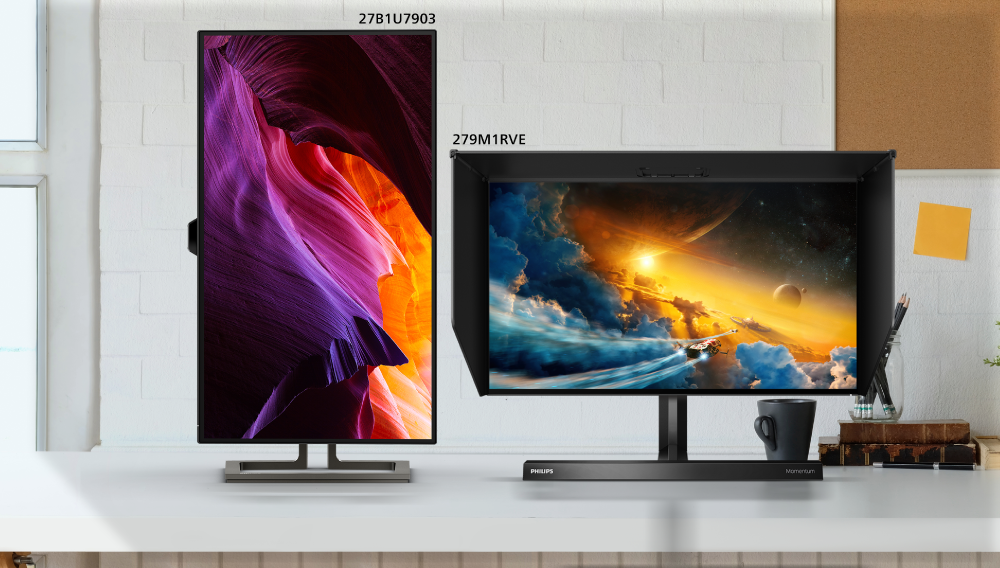 A two-monitor setup, with the secondary on vertical mode, has increased efficiency and productivity for users.
Two are better than one
A 27" ultrawide monitor is usually large enough for creative professionals who work with graphics or videos. A helpful feature is a MultiView option, especially for video editing. One window is for editing, the second is for viewing, and the third, for timelines.
Why a vertical display? For video creators, it gives a preview of the mobile layout and compatibility. A second use is for the Bin that holds all the files needed to make videos or graphics. Instead of reducing the screen space of the working unit or switching tabs often, more files are displayed on the vertical monitor minimizing the need to scroll and making workflow more efficient.
Reading voluminous text and browsing are also more convenient on a vertical monitor.
The most necessary feature of unit number two is the ability to pivot 90 degrees. A 4K or UHD 24" display that turns vertical should be sufficient. But don't hold back on another 27" if resources allow it.
Vertical displays allow users to check mobile layout and compatibility of output.
Good pairing
Philips Monitors has four models that can serve as a primary unit. They all come with features that provide high-quality visuals - sharp, vibrant, color-accurate - requirements to produce excellent images and videos.
The 24E1N5500E may be just 24" but with Quad HD (2560 x 1440px) resolution and uses IPS panels for image and color accuracy. It also comes with a Compact Ergo Base that allows it to tilt, pivot, and adjust the height for maximum viewing comfort.
One of our most innovative models is the 27B1U7903, packed with a Thunderbolt™ 4 dock for ultra-fast transfer speeds and a Compact Ergo Base that can pivot vertically. At 27", it has an Ultra Clear 4K UHD screen (3840 x 2160px) resolution that displays highly detailed images.
With a cable management solution in the 24E1N5500E model and the Thunderbolt's feature for seamless daisy-chaining, it should be a clutter-free workstation when hooking the two monitors up.
Primary display units
Two other 27" models, the 279M1RVE and 275M1RZPRO, are suitable primary units. The former is another 4K UHD screen (3840 x 2160), the latter QHD (2560 x 1440).
They are ideal as working units - when creating or editing videos and graphics - because of the IPS Nano technology feature for precise color accuracy and wide viewing angle.
The advanced IPS technology used for displays allows wider viewing angles even on portrait mode.
Both have MultiView features for simultaneously viewing multiple windows using different apps or programs, perfect for multitasking. They also come with DTS Sound that optimizes playback of music or video audios.
But while they can tilt and swivel for comfort viewing, they are not equipped with the pivot function that converts the monitor to a vertical setting, which makes them more suitable as primary monitors.
Which pair is best?
Depending on its purpose, the vertical monitor can be the 24" 24E1N5500E, which also comes with the Easy Read feature for a paper-like reading experience if primarily used for reading text.
Or it can be the larger 27" 27B1U7903, with the PowerSensor that automatically reduces monitor brightness when the user steps away from the screen and reduces energy cost.
You can mix-and-match the display models, considering its other state-of-the-art features and still be efficient and productive.
---