2022/03/23 | MMDInnovationHub
Next to budget, the purpose is an important consideration when buying a PC monitor. There is always the "right" monitor to maximize its usage. Are you a gamer, or a professional, working on graphics, videos, and photos? Do you like or need to watch movies or videos and view digital images on a large screen? Or, are you simply a general user, surfing the Internet, preparing or reading reports, and making presentations?
Regardless of what makes up your computer system internally, the choice of monitor hinges on what its use will be.
Size
Monitor sizes today typically range from 24" to 30". They are suitable for multi-purpose use. With eyestrain a concern due to prolonged use of computers - whether for work or leisure - a larger screen is more convenient, especially when reading voluminous text or going over tons of photos.
A preferred monitor size depends on the user's requirements. Common sizes are those between 24" to 30" and even up to 34".
A general user, or everybody who isn't engaged in professional multimedia work or a hardcore gamer, may be content with the smaller-sized screen.
But for video and photo editing or creating graphics, a monitor that provides an almost actual size of images makes the job easier.
And if you're a gamer? A display even beyond 30" definitely enhances the experience and makes it more enjoyable. It can even help improve gaming skills and the chances of winning.
Resolution
After deciding on the display size most suited for your requirements, another factor to consider is resolution.
For the best monitor display, a higher resolution will make viewing easy on the eyes. And if used for gaming, where images move and change rapidly, a 4K resolution (3840 x 2160 pixels) is preferable.
When use is not graphic-heavy, a 1920 x 1080 pixel resolution will be more than adequate. There are monitors with 2K resolution (2048 x 1080) that can display UHD images, which is fantastic for watching videos and movies.
Image quality and color
Color is crucial when working with graphics, whether static or dynamic. Accurate color rendition is a minute detail demanded in every artwork. Monitor specifications play a role in this, too.
The type of panel technology used for a monitor spells the difference in image quality displayed onscreen and affects color accuracy. The panels are either TN, IPS, or VA.
Panel technology makes a difference in image quality. Our 24E1N3300A is installed with IPS for extra wide viewing angles of 178/178 degree.
Panel choice depends mainly on the monitor's purpose. Combined with refresh rates (how many times per second a new image displays on screen), this will ensure the best display quality, whether for gaming, video and graphic work, or entertainment.
Pick the Philips Monitors for home, gaming, or professional use
With a general idea of the kind of monitor you need, the next step is finding a series that offers a wide range of monitors for every purpose there is. Philips Monitors displays cover gaming, professional, home use, and more.
Momentum M1
Avid gamers, specifically those hooked on Xbox, were the inspiration for the Philips Momentum 1 series. This line was designed to pair with Xbox consoles at 4K / 120Hz refresh rate but it also functions well with a PC.
This Momentum M1 series was designed with Xbox console gamers in mind.
Aside from an expansive display and a 4K2K resolution, this series has a 144Hz refresh rate for PC gaming. It is equipped with HDMI 2.1 ports to ensure the images displayed are in the ideal resolution. What you get are crisp images with no lags or image tearing for the next-level gaming experience.
Big Format Display
For the busy workplace, where viewing multiple screens makes life easier, Philips Monitors offers the Big Format Performance Display (BFPD). Equipped with MultiView technology, it allows four screens to be displayed simultaneously on the 43" display, yet this 439P1 model never compromises viewing efficiency and image accuracy.
439P1 is the first height adjustable 43" 4K monitor that can tilt, swivel and adjust according to user preferences.
Its state-of-the-art features include 4K Ultra High Definition (UHD) display, and a 16:9 aspect ratio to prevent distortion of images even with multiple screens.
More than this, Philips addressed issues of physical convenience through a height-adjustable monitor that allows it to tilt, swivel, and adjust to the user's specifications. Aside from its small, space-saving base, Flicker-free and ComfortView screen features mean less eye strain even with prolonged exposure.
Portable Monitors
Need more screen space? A portable monitor is your answer. Extend your laptop screen or magnify the display size of a mobile device with the Philips 16B1P3300 portable monitor, dubbed the B2B solution.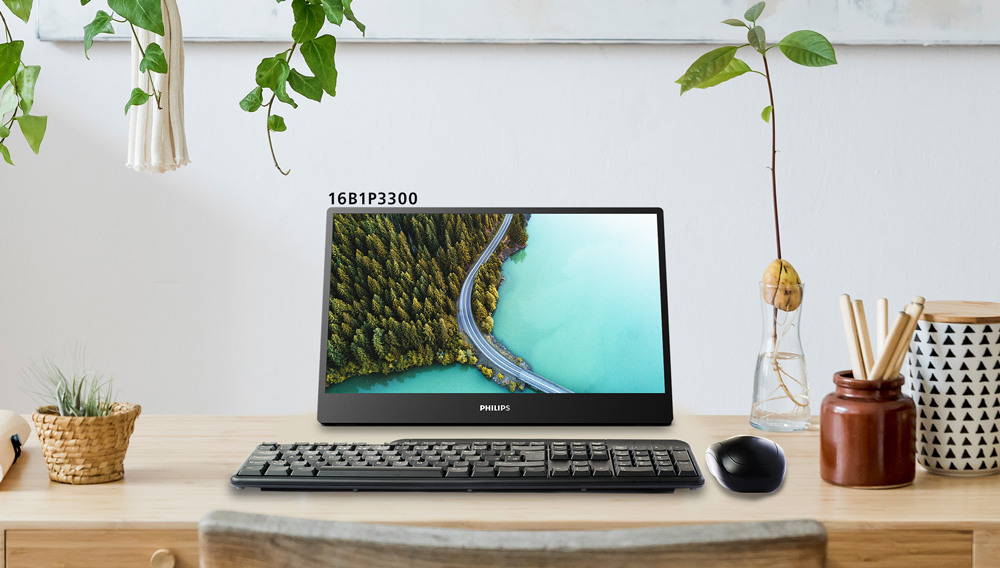 Magnifying display size of mobile device images is now possible with portable monitors.
Its 15.6" screen uses the IPS panel technology and provides a 1920 x 1080 pixel resolution. Don't be deceived by its compact size. Image quality is top-notch, whether used as an extension screen or to enlarge images from a mobile device.
This latest model is HDR-ready and equipped with a micro HDMI port and USB-C for easy connection. It also comes with a foldable stand for easy setup and convenient mobility.
2-in-1 Easy Read Display
Another innovative Philips B2B solution is the 2-in-1 Easy Read Display. The Electronic Paper Display 24B1D5600 model has two monitors - a 13.3" and a 23.8" - working as stand-alone or be hooked together to expand the viewing display.
This 24B1D5600 2-in-1 EasyRead Display is a combination of 23.8" QHD monitor and a 13.3" Electronic Paper Display.
The smaller screen at 1200 x 1600 resolution is perfect for reading voluminous text and offers maximum eye comfort. Separately, the larger display with Quad HD resolution is for purposes other than reading. This model is energy-saving and eye-friendly. It comes with the USB-C, and the smaller screen can tilt up to 20 degrees for more convenience.
Curved monitors
Finally, Philips went beyond a flat-screen and designed curved monitors for a more immersive real-world view. The advantage of this type of display is the shape allows light to project from all directions towards the viewer instead of just a straight line. With a broader field of view, the user experiences less eye strain even as the viewing experience is tremendously enhanced.
A screen that almost wraps around the user enhances the viewing experience multiple times.
The 1000R curved monitor is distinct because its curved design almost matches the human eye's depth perception and viewing angle. Images are bright, and the colors are accurate, further boosted by a 1920 x 1080 resolution for that complete HD experience.
Curved monitors do not only enhance intense gamers because entertainment value also increases when watching movies or videos due to the exceptional image quality onscreen.
Whether work, play, or for fun, there is a monitor that's just right for you.
---