A touch screen monitor can be very handy for business owners, as it can serve as a secondary monitor to your desktop computer, and carried with your laptop for use on the go. Our 242B1TC monitor presents five essential features that you should look out for in a touch screen monitor for your business. This includes outstanding visibility, brilliant interactivity, eye care technology, flexibility and connectivity. Read on to learn more about the technologies that deliver all the above.
Outstanding visibility
We know that picture quality matters for your clients and business, which is why our 242B1TC touch screen monitor delivers crisp and detailed images in Full HD. This is paired with high brightness, incredible contrast and realistic colors for truly life-like pictures.
SmartContrast gives you the best digital images and videos.


For added details, this monitor also comes with SmartContrast, which is a Philips technology that analyzes the contents you are displaying. By automatically adjusting colors and controlling backlight intensity, it dynamically enhances contrast for rich black details. This gives you the best digital images and videos, especially where dark hues are displayed.
Brilliant interactivity
This Philips display features SmoothTouch, which offers superior touch sensitivity and a natural, fluid touch response. As it enables touch-typing with all 10 fingers, it allows brilliant interactivity, whilst increasing your productivity and efficiency.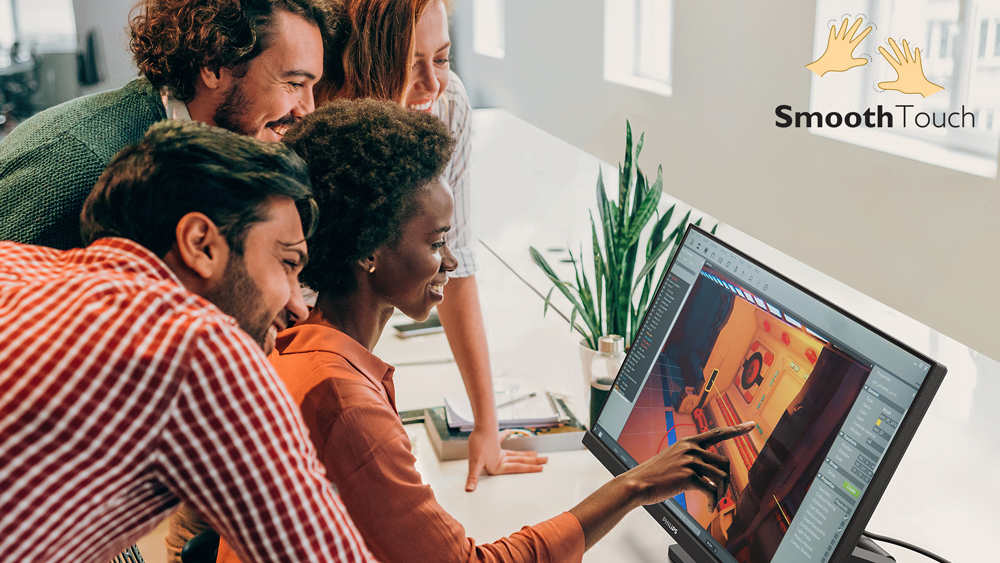 SmoothTouch enables touch-typing with 10 fingers.


With this monitor, you're a tap, swipe and pinch (to zoom) away from fully utilizing the new capabilities of touch-based applications, or to bring your older applications to life.
Eye care technology
For a more comfortable viewing experience, this monitor features several innovations that care for your eyes. Its anti-glare touchscreen and EasyRead mode give you a paper-like reading experience.
Flicker-free Technology reduces eye fatigue for more comfortable viewing.

Meanwhile, its Flicker-free Technology offers more comfortable viewing with less eye fatigue, and its LowBlue Mode brings easy on-the-eyes productivity with a significant reduction in harmful shortwave blue light.
Flexibility
The 242B1TC comes with a Philips SmartStand, a Z type structure that allows you to smoothly tilt, height adjust and fold the screen.
The Philips SmartStand enables flexible ergonomic adjustments.


These flexible adjustments enable you to use it in various ergonomic positions, such as standing upright for better touch control, or reclining backwards, for drawing or annotating.
Connectivity
As an HDMI-ready device, this monitor ensures universal digital connectivity, which transmits high-quality digital video and audio from a PC or any number of AV sources (like set-top boxes, DVD players, A/V receivers and video cameras).
Trimmed with HDMI and DisplayPort, this monitor helps you stay connected.
In addition, its DisplayPort connection provides high performance and zero latency to give you the fastest imaging and refresh rates for maximum visuals. By using various adapters, it also keeps interoperability in mind.