2022/09/22 | MMDInnovationHub
Creative professionals live by visuals. The ability to visualize a concept and execute it is always the goal. Technology has provided excellent tools not just in the form of computers but, more importantly, through state-of-the-art displays.
Wouldn't it be terrific to work in front of one computer doing multiple tasks simultaneously with the results in front of you all together? And this is accomplished without the usual cluttered space common among busy professionals.
The answer is daisy-chaining. The term does not sound very techie, perhaps because its purpose is to simplify operations.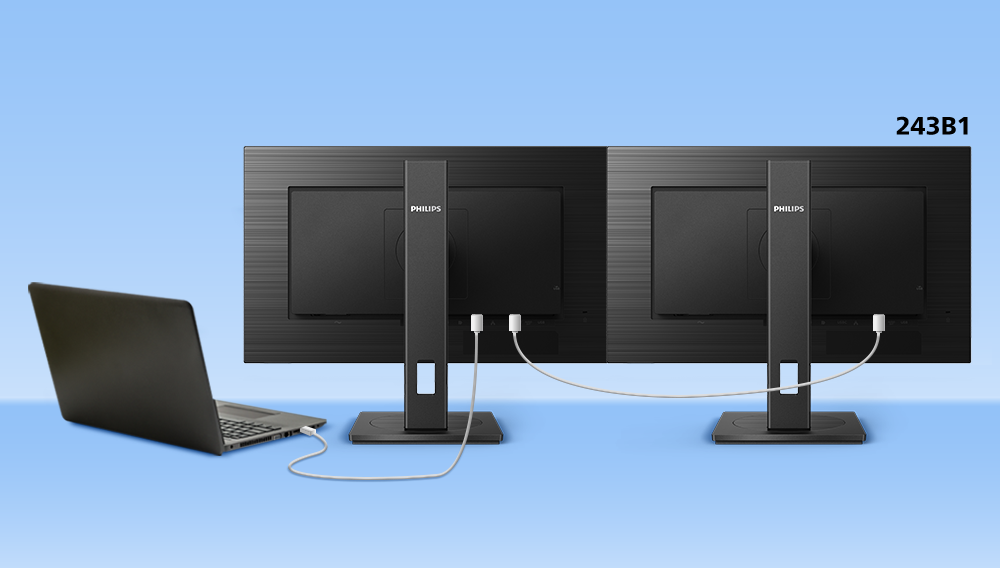 Daisy-chaining reduces cable clutter while allowing an expansive, simultaneous view of multiple screens.
When you daisy-chain, you hook up two or three monitors with expanded views without the usual long multiple cables snaking behind the PC.
Instead of hooking each monitor to the computer graphic board individually, each display connects to the other using a DisplayPort 1.2 input and output terminal, with just one monitor directly linked to the computer.
Uncompromised visual quality
The setup is perfect for design work, video editing, and even animations, which would otherwise be a challenge working with just one display.
There is no need to worry about image sharpness suffering under this setup. Each monitor will display graphics and visuals as clearly as if directly hooked to the computer graphic board.
Two things to remember if opting for a daisy-chain setup: make sure the computer is compatible for daisy-chaining with a DisplayPort 1.2 and the number of monitors the PC can hold, even if its DisplayPort can handle multiple connections.
The good news is this setup allows a combination of display resolutions without compromising the quality of visuals.
Ideal monitors for daisy-chaining
Philips Monitors, the innovator, has designed monitors ideal for a daisy-chain setup. Its 4K Ultra HD display model 438P1, which provides clear graphics and a MultiView function, is an ideal primary monitor.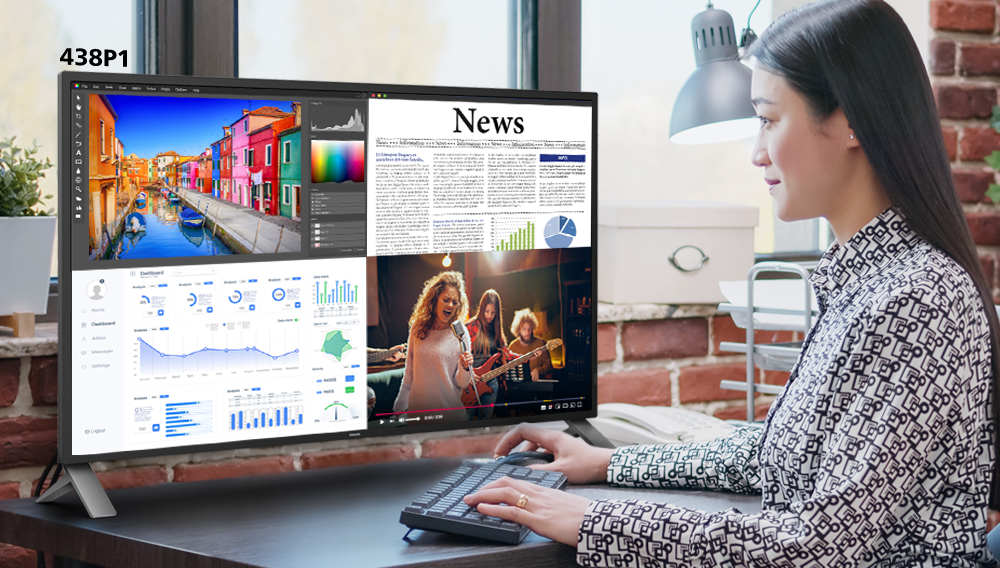 As primary monitor, this ultra-high-definition monitor has an added feature: MultiView capacity.
Its 3840 x 2160p resolution will give detailed images even with 3D rendering. The monitor is equipped with IPS panels to enable perfect viewing at 178/178-degree angles. Color accuracy is best for photo and video editing and other graphical work - whether static or dynamic.
Although daisy-chaining connects multiple monitors to a single PC, this 43" model has an added feature: MultiView capability, offering four separate screens on a single display.
Secondary displays
A curved display for secondary monitor is a good choice especially for the expansive screen real estate. Philips Monitors offers the 34" curved frameless monitor, 346E2CUAE, from the E Line.
Get an even better viewing angle with a curved display like the Philips 346E2CUAE.
It has an even higher resolution (3440 x 1440p) with a curved panel for wide viewing angles, perfect for creating graphics that require panoramic views.
Another option for a third monitor is the 279E1EW with USB-C, also under the Philips E Line series. It boasts a color depth of 1.07 billion colors and the finest gradation for precise and vivid images for true-to-life visuals.
And with IPS wide view technology, viewing the display from any angle will not distort image clarity or crispness, as well as color consistency and brightness.
The screen size is smaller than the first two displays mentioned, but its features are not. If you haven't thought of daisy-chaining to increase productivity, now is the time to start.
---