2022/05/25 | MMDInnovationHub
Few can deny that a display monitor is one of the most important components in gaming. In console gaming, besides the controllers and headsets, the monitor and its visual performance truly make or break an experience.
As such, Philips Monitors' collaboration with Microsoft unlocks a new frontier in console gaming with its range of displays that was "Designed for Xbox".
These 279M1RV and 329M1RV Momentum monitors were designed for an ultimate console gaming experience on the Xbox.
Gaming is more than just playing. It is an experience beyond visuals and audio. Interactive games transport players to another world where they tune out reality and immerse themselves in heart-pumping action as they complete each quest.
The biggest spoiler of an intense gaming experience is lagging. The images don't refresh quickly enough, and you can't keep up with the action, so you lose.
In this collaboration with Microsoft, a range of displays has been tailored to bring out the best experience for its gaming console, the latest of which is the Xbox series X/S.
Connect your Xbox console to any of the multiple HDMI 2.1 ports of a Momentum display and play with UltraClear 4K resolution @ 120Hz frame rate.
279M1RV, 329M1RV: Designed for Xbox
It all starts with HDMI 2.1. Once you plug the Xbox gaming console into this port, the bandwidth provided will support up to 4K resolution and a refresh rate of 120Hz. Crisp images, no screen tearing, minimal lags, if not totally eliminated.
The Momentum series of monitors is precisely "Designed for Xbox" and packed with not one but three HDMI 2.1 ports. The 279M1RV model has a 27" screen built for the intense Xbox gamer. Once the console plugs into the monitor, you get optimal visual performance created for the latest Xbox gaming console.
HDMI 2.1 supports up to 144Hz refresh rate with 4K resolution. Want a more expansive view? The 329M1RV, also part of the Momentum line, is your option. It has 32" of display for an even more adrenaline-pumping experience.
Visuals have the most impact when playing interactive games. But add surround sound using Bowers & Wilkins technology by the award-winning audio company, and you get exceptional sound from discreetly placed speakers.
A console gaming experience like no other
Crisp images and bright colors bring the screen to life. Aside from low lag input, which are features of all Momentum models, there is the immersive Ambiglow, an innovative Philips technology that creates a halo of matching light from the monitor that adapts color and brightness of emitted light that goes with the image onscreen. Momentum "Designed for Xbox" monitors also come with a distinctive Green Xbox glow for those who prefer this default lighting ambience.
Resolution is critical to produce detailed images onscreen. A 4K resolution at 3840 x 2160 pixels will provide smooth console gaming at a refresh rate of 120Hz. As we also want PC gamers to have the ultimate gaming experience, our Momentum series also supports a 144Hz refresh rate for these players.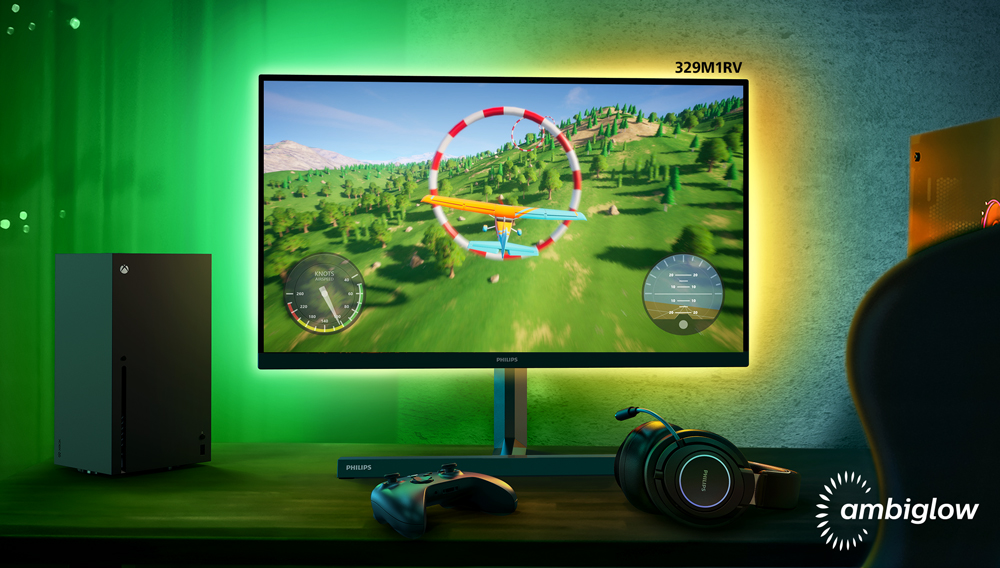 Accurate color is never a problem with Ambiglow, which enables a Momentum display to adapt color and brightness of emitted light that matches onscreen images.
Both Xbox enthusiasts and PC gamers are able to keep up with their targets because the displays change in real time as the images refresh since Momentum monitors support a Variable Refresh Rate (VRR), to reduce, if not eliminate, lags, tears, or judders.
To provide even more stability of screen images, this monitor series is equipped with AMD FreeSync Premium Pro technology for real HDR gaming experience that raises the level of intensity.
To round out the experience for Momentum users, a must feature is a USB-C solution that easily connects other devices to the monitor.
Philips Momentum gaming displays were built with low lag but lightning-fast pixel response to keep pace with time-sensitive games, and where the objective is to survive and decimate the enemy.
These models were precisely designed to support the full speed, performance and technology of the Xbox series X/S for a total immersive and high-fidelity gaming experience that will push you to win.
---