2023/05/10 | MMDInnovationHub
A clutter-free workspace usually fuels creativity and increases productivity, whether the area is big or small.
Managing cables to connect a monitor to a PC or an extra display hooked to a laptop is often a challenge. Seeing tangled wires while working on a design or editing a video can be distracting. Throw in additional accessories, and that work area gets messy.
Headphones are essential for communicating. And to relax. Even when they come in wireless models, they still take up space. There are separate headphone stands available, but again, they will increase the clutter.
Using wired models adds to cable management. It's more convenient to keep headphones plugged in, so they must be within easy reach; if stored elsewhere, there's the hassle of bringing them out and plugging them in each time.
Tidy workspaces
Thinking beyond visual sharpness and color clarity, some Philips Monitors models include features to manage cables, so that workspaces remain tidy, and users can stay focused.
A great example is the business monitor from the 5000 Series, 40B1U5600. It is a Quad UltraWide display at 21:9 aspect ratio with 40" viewing screen and a 3440 x 1440 resolution for CrystalClear images. The size alone takes up space but is worth it for tasks where details matter.
Well-managed cables promote productivity and creativity.
If you're particular about being orderly as you work, it is a must for wires and cables to stay tangle-free, even if these are stashed behind the display.
There is the power cord for both PC and monitor, and the connector (HDMI, DisplayPort, etc.) between the two, plus other wires that need plugging in, such as a keyboard, mouse, headset, microphone, or another device, and all those will result in clutter.
A conspicuous feature of the 40B1U5600 is the headset holder on the top left side of the display. It makes the device easy to reach and return without the need to plug and unplug. And it works for either wired, big headphones or tiny earphones.
Philips Monitors 40B1U5600 has a built-n headset holder to keep headphones handy, without the clutter.
Clutter-free from behind
But the actual cable management happens behind the display. You can use the cut-out space in the monitor stand to hold all the cables in one place.
While there are multiple ports for HDMI 2.0, DisplayPort 1.4, and USB-C, these are discreet. It is ready for daisy-chaining via the DisplayPort, so hooking up additional monitors would not result in more tangled cables.
And with the USB-C, all it takes is a single cable to link to another device, then watch a high-resolution video, charge the device, and transfer large chunks of data at a high speed.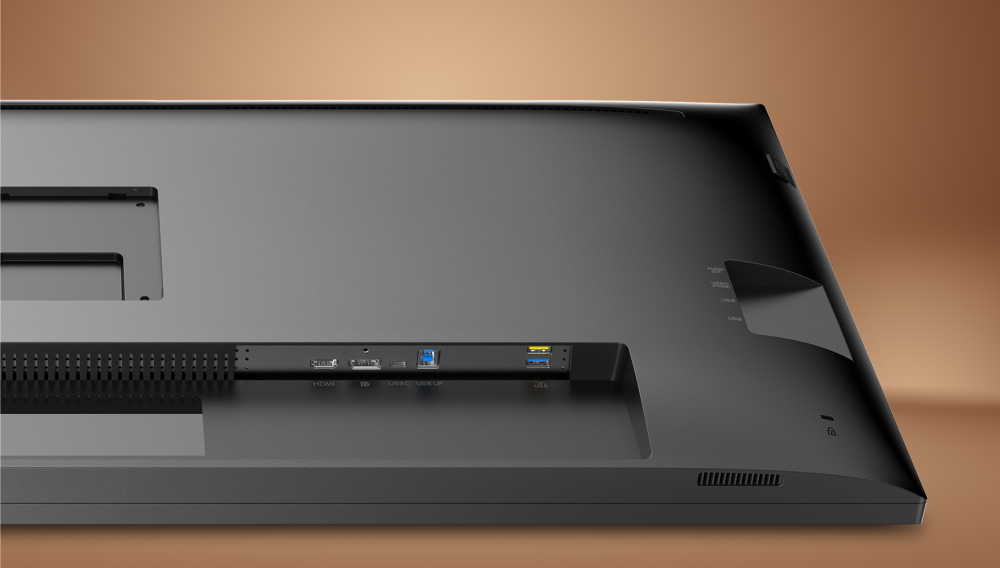 The discreetly placed ports of the 40B1U5600 help avoid tangled wires and cables.
More than managing cables, the 40B1U5600 has plenty more going for it. It is a flat panel screen with IPS wide-angle technology, so viewing photos, videos, movies, or working with text and numbers on the monitor does not distort images from whatever angle.
To further ensure vivid colors and life-like images, the model is VESA-certified DisplayHDR™ 400, so the brightness, contrast, and colors are accurate.
Energy saving
This display model is suitable for both work and play and is designed with technology to ease visual fatigue (EasyRead and LowBlue Mode) and viewing comfort with the people-friendly Compact Ergo Base, which tilts, swivels, and is height-adjustable.
Also, this business monitor comes with a PowerSensor to save up to 75% in energy costs. It detects when the user leaves and automatically reduces monitor brightness. The technology not only saves power but prolongs monitor life at the same time.
There is also the LightSensor that adjusts the picture brightness based on the room's light conditions, which makes this monitor environment friendly.
The 40B1U5600 is an all-around monitor. Designing monitors is not just about updating technology but considering the needs of users.
---