2023/2/10 | MMDInnovationHub
Gamers are demanding when it comes to monitors. There are specific requirements that have to be met to deliver that ultimate gaming experience. Not all monitors are created equal, so in choosing which one to support your gaming pursuit, check out the 7 best gaming technology your monitor should have.
Mini LED
Contrast and brightness are essential to producing ultra-clear images. Mini LED backlighting technology delivers more contrast and adds brightness to improve display performance. With increased contrast, a monitor with this feature has the ability to accept HDR signals for more colors that make images and gaming characters richer visually.
Better contrast ratio further adds simulation for the eyes, training the player to react faster and ultimately score higher.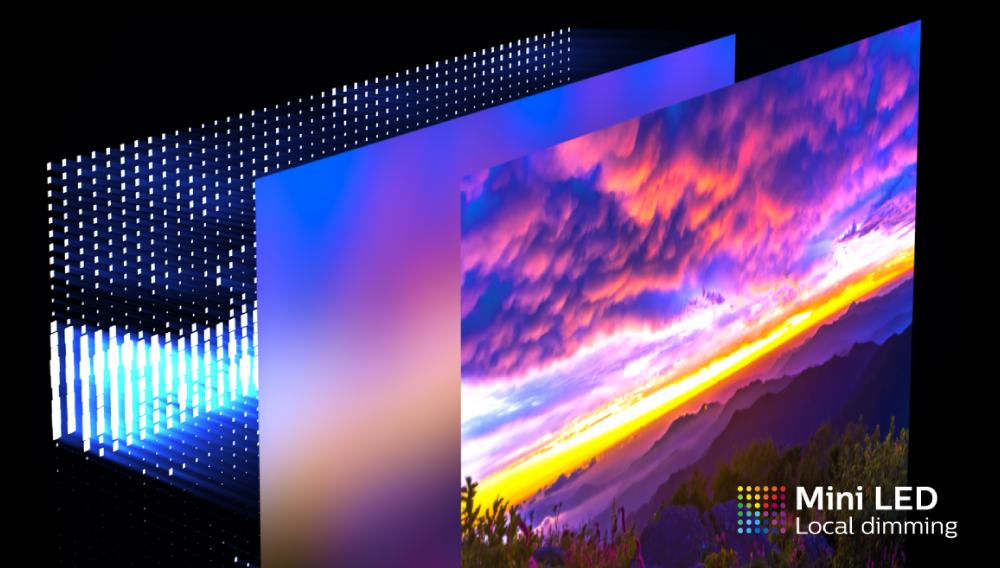 Mini LED with local dimming technology.
Curved
Every hardcore gamer wants an immersive experience when playing. A curved monitor means more immersion because the eyes take in everything on the screen with minimal visual stress. Also, it approximates a person's natural field of view even with a large screen.
The human eye has a curvature rate of 1000, so a display with a 1500R curvature means a user can see more of what's on screen in one glance, which is always advantageous in gaming.
UltraWide QHD
In gaming, viewing an UltraWide monitor increases a user's field of view, which translates to seeing more of what emerges on screen and reacting appropriately for a chance to beat the competition.
Throw in QHD (Quad HD) with 3440 x 1440 resolution in addition to an ultrawide display, and it's impossible not to see every image sharper, which is always best for taking out enemies. It is four times the definition of a standard HD, so regardless of a dark background scene, a player will not miss out on what pops up on the screen.
165Hz Refresh Rate
Images change rapidly, and monitors have to catch up. For non-gamers, the standard 60Hz to 120Hz is sufficient. But gaming requires a higher refresh rate. Refresh rate, or how many times per second an image refreshes, determines the quality of pictures on display. A higher refresh rate reduces, if not eliminates, flickering. It means images display smoother, making it easier on the eyes.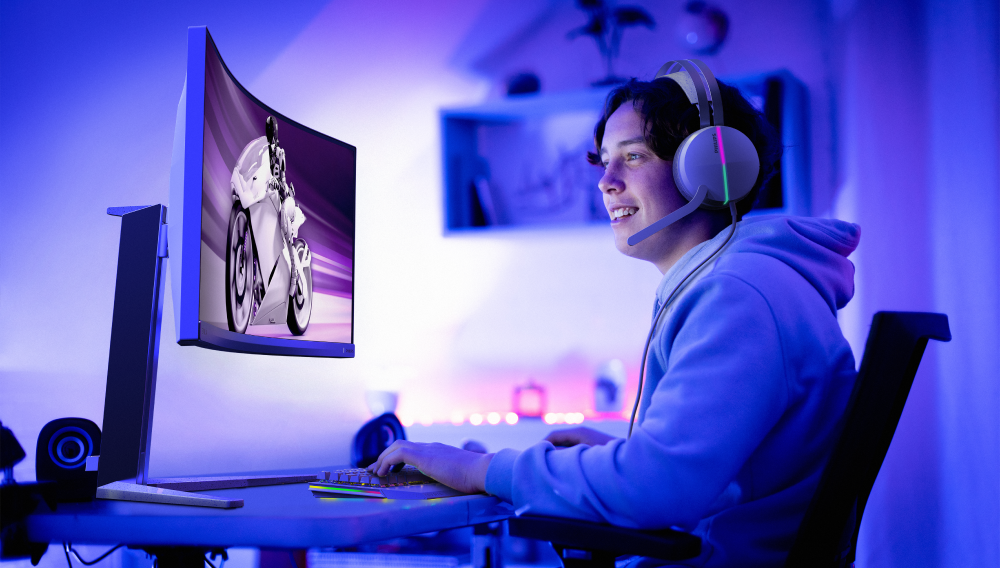 The Evnia 34M2C7600MV is not just high resolution (3440 x 1440), it offers an ultrawide display so it feels real while gaming.
Frame rate (fps) measures how quickly several frames appear within a second on screen. When refresh rate and frame rate don't match, it results in screen tearing.
With animation set at 100 fps or higher in most video games, a refresh rate of 165Hz means the display can keep pace, eliminating tearing for optimal gaming and ensuring an immersive gaming experience.
DisplayHDR 1400
Not all monitors can display HDR equally. To ensure true HDR is displayed on screen, there is a VESA DisplayHDR certification program. The certification considers several factors including black levels, peak brightness of a monitor, color gamut display, and a local dimming feature.
A DisplayHDR 1400 certification means passing all specification tests for each factor. This certification requires high sustained peak brightness levels and a wider color gamut.
Low Input Lag
When gaming, whether leisurely or at a competitive level, the difference between winning and losing is how fast a player reacts to a situation on screen. There is a slight delay between the controller and display, known as input lag. The lower the input lag value, the faster the screen responds to a player's action. Monitors have different input lag rates, and coupled with a high refresh rate, shaves off valuable milliseconds in the result of a player's command.
Ambiglow
For an even more immersive viewing experience, especially for gamers, there is the Ambiglow technology. A halo of light from the monitor is created around the screen, adapting the color and brightness of the visual for an added uniqueness to an immersive experience. It is not only for playing games but for watching movies and sports, too.
The Ambiglow technology creates a magical environment while playing as a halo is created from light emitted by the screen.
All these state-of-the-art features are not in every gaming monitor, but you can definitely find them all in Philips Monitors' Evnia 34M2C7600MV that is built for gaming.
The beauty of Evnia is that it caters to all types of gamers – leisure and hardcore – and designed each model to appeal to everyone allowing users to personalize their units with softer colors and muted themes.
The 34M2C7600MV is packed with features beyond those just for gaming. It is also built for comfort and convenience and is just as ideal for work, when needed.
---