2022/12/1 | MMDInnovationHub
Can you see the difference if your monitor is 5K resolution? With a screen big enough in a space small enough, you definitely can. But from a distance, it hardly matters.
So, a creative content creator will appreciate sitting 20" away from a 40-inch screen in a room just small enough and seeing every image as sharp and clear it's almost life-like.
That's the Philips 40B1U6903CH, from the 6000 series of its business monitors with 5K resolution, in a room just the right size.
Why go 5k?
The big draw with a 5K resolution display is the more workable pixel density available. With a 5120 x 2160px resolution - that's 1280 extra columns and 720 extra lines of display area – with details so fine whether viewing documents, editing photos, producing videos, or gaming. Images are sharper, lines are smoother, and fonts are easily read.
But that's not all this display monitor has to offer; it comes with a curved screen, so all light from the edges come into one's field of vision. With eye strain significantly reduced because of the high resolution, the curved edges further minimize vision stress.
People who have experienced a 5K resolution monitor admit their eyes found it hard to go back to 1080p.
Another advantage of a 5K resolution display is its ability to handle reflection better that it minimizes or eliminates glare especially in well-lit spaces.
Ultrawide screen and more
With only a handful of 5K monitors in the market, owning a 40B1U6903CH is a necessary luxury, especially for creative professionals.
Among the other notable features of this model is its UltraWide LCD screen, perfect for opening multiple windows. With its 21:9 aspect ratio it allows extra room to view up to four screens without the need to hook up a separate monitor. It is an ideal display for multi-tasking with a viewing angle of 178/178 degrees.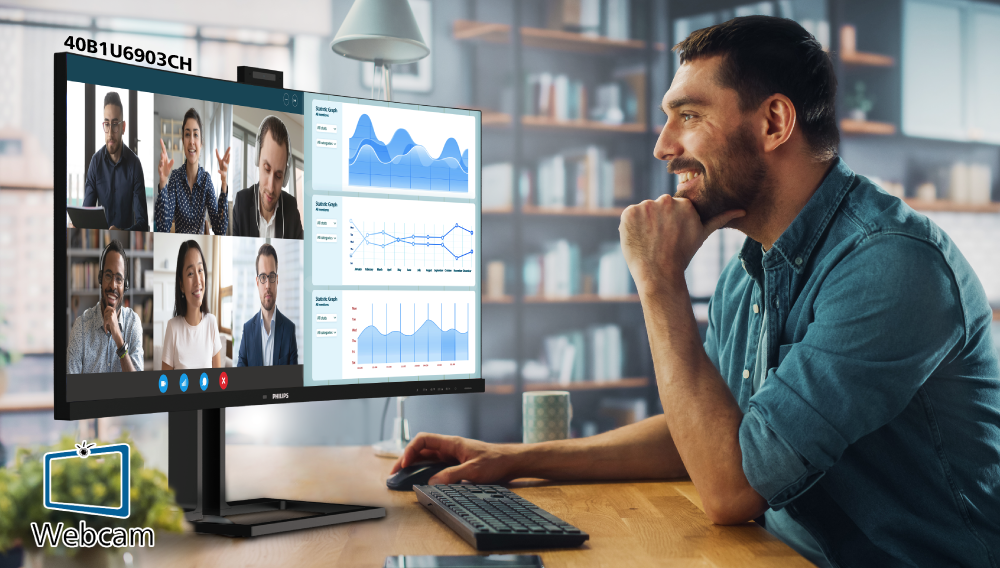 The Philips 40B1U6903CH comes with a built-in webcam to make virtual communication a breeze.
With communication so essential in virtual workplaces, a built-in webcam and noise-canceling mic are a must. Philips made sure to include these features in this model under the 6000 series.
The 5MP webcam provides good quality video and audio, while the mic works well even with ambient sounds, so both pictures and audio come out clear.
The 40B1U6903CH is also equipped with a VESA-certified DisplayHDR 400 to produce incredible brightness, contrast and colors and adds to giving the life-like feel of images.
Connectivity seals the deal
Image quality is critical, but so is connectivity. We addressed this need and equipped the display model with a Thunderbolt™ 4 port.
What's the big deal with a Thunderbolt™ 4? Although it is compatible with the USB-C 3.2 and 4, plugged into its own port, it allows high-speed data transfer, provides high-definition video output, and can charge devices, all with a single port and cable. Pair that with 5K resolution, and blurry images will be non-existent. Lagging is history, too.
The Thunderbolt™ 4 port also makes a daisy-chain setup easy in case there's a need to hook up another display. Just choose another monitor compatible with Thunderbolt™, and it will be a perfect duplicate in terms of picture clarity and sharpness.
The Philips 40B1U6903CH with Thunderbolt™ 4 offers lightning-fast connectivity for data, video, and Ethernet.
Making things easy
It also comes with features that make work and leisure convenient. The Compact Ergo Base enables tilting, swiveling, and height-adjustment so the user can position the monitor for maximum viewing and comfort.
This display monitor delivers up to 90W of power when charging other devices.
On top of these conveniences, we have added another protection for the eyes against harmful blue light with the TUV Rheinland Eyesafe©, a filter that helps reduce digital eye strain yet guarantees color integrity.
While 5K may not be for everyone yet, those who need it will find it hard to turn back from lower resolutions and a smaller screen.
---