Enjoy complete gaming immersion with the Philips 275M8RZ display (27"), offering powerful gaming performance coupled with innovative gaming enhancements and the latest device connectivity options. This powerful gaming displays has all the essentials a modern gaming enthusiast needs, including a speedy refresh rate of 170Hz, VESA-certified DisplayHDR 400 to deliver brilliant visuals, and a combo of both NVIDIA G-SYNC compatible and AMD FreeSync Premium for ultra-smooth tear-free gameplay, delivering you the ultimate gaming immersion experience to the comfort of your home.
Built for Fast Action and Stunning Picture Quality for an Ultra-Smooth First-Class Gaming Experience
At the highest level of gaming where competition is fiercest and visual detail is pushed to the limit, every advantage matters.
Screen tearing and stuttering doesn't only harm gaming performance, it also destroys immersion. The Philips 275M8RZ eliminates these problems with NVIDIA G-SYNC compatible and AMD FreeSync Premium, the former which eliminates screen tearing by syncing the display's refresh rate with the graphic card's output, and the latter which delivers tear-free gameplay with high refresh rates, low framerate compensation, and low latency. These features combined with an incredible refresh rate of 170Hz refresh rate and a response time of 1 ms delivers immersive, ultra-smooth, and artefact-free gameplay suitable for high level e-sports competitions. From a competitive perspective, this monitor can make all the difference – being able to dodge enemy abilities precisely in MOBA (Multiplayer Online Battle Arena) team fights, or see your enemy a split second earlier in an FPS (First Person Shooter), can win or lose you a game.
| | |
| --- | --- |
| 1ms Response Time | 170Hz Refresh Rate |
Featuring Quad HD 2560 x 1440 resolution enhanced by VESA-certified DisplayHDR 400, the Philips 275M8RZ brings images to life through astonishing brightness, color, and contrast, delivering a superb visual experience with life-like images and incredibly detailed picture quality. In addition, this monitor features a IPS panel that provide crisp images and accurate colors, a perfect choice for watching movies and playing video games. Experience all kinds of new game worlds to their fullest. Explore an enchanted wilderness in a fantasy adventure game, the architecture of a futuristic city in a sci-fi game, or simply admire intricate character design details in your favorite story-driven game. Our monitor's visual quality excellence will unlock new possibilities for your gaming immersion.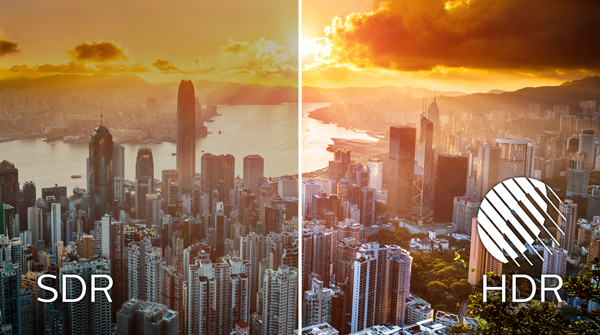 Enhancing user experience further with HDMI 2.0 and unique smartImage Game Mode
In addition to these stand-out gaming features, the Philips 275M8RZ offers other convenient connectivity options, including two HDMI 2.0and DisplayPort connections. HDMI compatibility is essential for gaming consoles such as Xbox and PlayStation. HDMI 2.0offers the addition of Ultimate Console Gaming Mode (with optional video playback capability), optimizing your monitor and configuring your settings to deliver the optimal gaming experience. The Philips 275M8RZ is also equipped with gaming enhancements unique to Philips, such as SmartImage Game Mode, which has some screen setting presets specifically designed for different types of games, for example "FPS" mode improves how clearly you can see dark areas.
Technology designed to protect your health and wellbeing
To keep the eyes healthy, Flicker-Free technology and Low Blue Mode reduce screen flicker and shortwave blue light significantly to decrease eye fatigue, preserving the health and wellbeing of your eyes even if you spend long hours in front of the screen. In addition, the display screen is designed to tilt to your ideal, individualized viewing angle. Philips remains committed to delivering a world-class experience to users all over the world – especially with the Momentum line of displays, designed for the ultimate gaming immersion experience for your home entertainment.